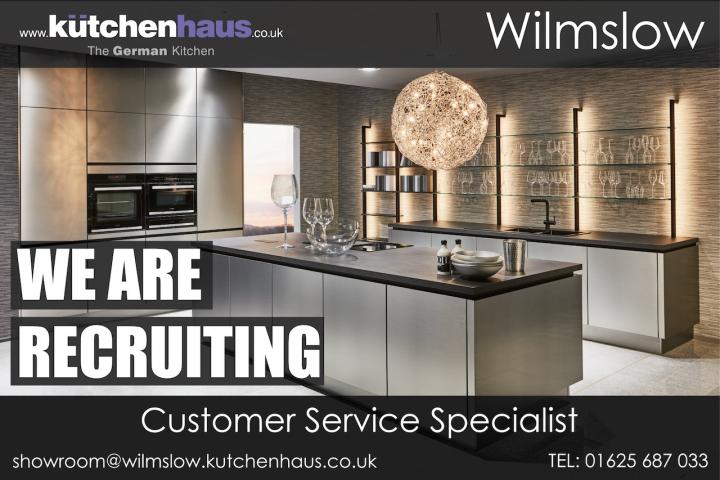 Promotional Feature
Some people like houses with history. Others like something a bit more modern. But what most people do agree on, is that it's your kitchen that makes your house feel like a home and a social hub where you unwind, relax or entertain with family and friends
Being a Kitchen customer service specialist with Kutchenhaus Wilmslow takes a lot of character. We're looking for someone with charm and personality to chat with our customers, listen to what they need, demonstrate our products and help find a solution that's perfect for them - rather than one that's right for everyone else. We want the customer to feel like you're their best friend, that they have a great rapport with you and that they feel that they can trust you and in turn the rest of the team.
This isn't about selling - far from it. It's about showing your passion for people, and for understanding their homes and aspirations. So you don't need any sales experience to fit in here, just you and what makes you great.
A Bit More About the Role
You must be self motivated, passionate with a strong desire to excel and through experience, knowledge and team work seek out solutions
Be a creative individual who can thrive under pressure, with strong communication & written skills (Excel, word, digital communication ie facebook, Instagram, twitter)
To have the confidence and knowledge to talk to customers about all the products we have an offer, their features and benefits to help customers in their selection
You'll support our end to end sales process and after sales service by completing all necessary administration and making sure our customer relationship management system is kept updated. You'll deal with all customer queries as professionally and quickly as possible, plus understand who our competition is and how we differ.
Once we sell a kitchen the journey does not stop there as we will want you to maintain the relationship with the customer to co-ordinate supplier deliveries and ensure the customer is kept well informed
You will work closely with our installation project Co Ordinator to ensure the fully co-ordinated service is delivered for the customer
What We Offer In Return
Competitive basic salary £16 - £18k dependent on experience
Commission on showroom sales
Monthly bonus scheme (added to commission gives OTE of circa £30k)
25 days holiday
Pension contribution
Comprehensive product and systems training
An environment to learn, grow and feel that your part of something special
Please email your CV to showroom@wilmslow.kutchenhaus.co.uk or call 01625 687033 for further information.
Tags: