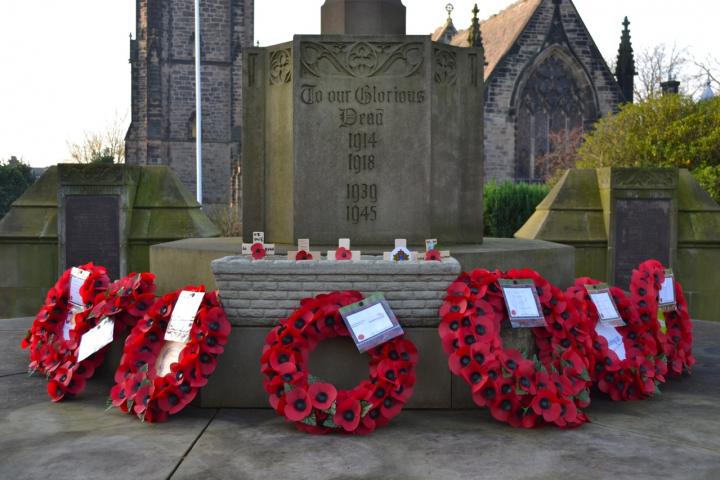 Michael Scaife has been producing monthly articles for the St Philip and St James Church news sheet to remember those local residents who died in that month 100 years ago.
There are 71 men recorded on the Alderley Edge War Memorial, along with one member of the British Red Cross and a further 6 are remembered in the annual Remembrance Day service:
Only one man from the village died in October 1918, but we probably know more about him than any of the others commemorated on the war memorial. Lieutenant-Colonel Claude Swanwick Worthington was the son of the noted Manchester architect Thomas Worthington and the brother of both Hubert and Percy who were also leading architects. Unlike them, Claude went into the cotton trade, working for the Calico Printers Association in Manchester. But, as the Advertiser noted in its report of his death, "on the outbreak of war [he] found his true vocation as a soldier".
An unsigned article in the Advertiser headed 'In Memoriam' tells us a great deal about him. What comes out most clearly is his keen interest in sport. He played rugby for Manchester Rugby Club, was a member of Manchester Skating Club, 'rarely missed a meet of Macclesfield Forest beagles', and was 'a fine and fearless rock climber'. For many years before the war he held a commission in the 6th Manchester Regiment (Territorial) and when war broke out he went with this regiment to Egypt with the rank of Major.
In May 1915 the regiment landed in Gallipoli. Major Worthington was awarded the DSO for 'his conspicuous service' in the campaign, in which he was wounded and sent to Malta to convalesce. On his recovery he returned to his battalion and remained with it until the end of the campaign. In March 1917 the battalion was sent from Egypt to France. There he was wounded again while in command of a battalion of the Duke of Wellington's West Riding Regiment. When he was wounded for the third time, this time fatally, he was in command of the 5th Battalion Dorset Regiment. He was posthumously awarded a bar to his DSO for 'conspicuous gallantry whilst in command of his battalion'. He was buried in Monthuon Military Cemetery, Le Tréport.
Tags: