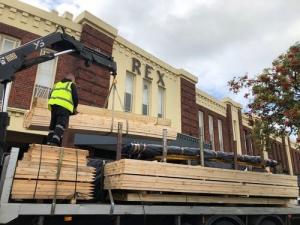 A planning application has been submitted to enable The Rex Cinema to be brought back to life.
The Mundin family has applied to change the use of 23 Alderley Road and the first floor of 17 to 21 Alderley Road from a shop to leisure use so they can restore The Rex Cinema which was converted into a shop in 1996 and occupied by the MultiYork showroom.
From its gala opening on Thursday 15th October 1936 with Captain Blood, starring Errol Flynn and Olivia de Haviland, The Rex remained an entertainment venue for 60 years. Whilst many privately-owned cinemas were closing, due to the arrival of the American multiplex in the UK, The Rex managed to remain open until the 5th June 1996 when it closed its doors with Hugh Grant in 'An Awfully Big Adventure'.
The Mundin family business, Rex Cinema Wilmslow Limited, has taken a lease of the Rex cinema for fifteen years with a view to operating a two-screen cinema, showing two or three films each day.
Amanda Mundin explains "We propose to make alterations to the existing building, re-instating use of the original balcony area after major refurbishment to create a much-improved viewing and seating experience.
"We will fully refurbish the entrance and create a box office foyer, which has been used for the past 20 years as a furniture showroom. A second brand new screen will be created in the ballroom area on the first floor and we will provide new toilet facilities."
She added "Where we are able, within the constraints of the existing building, we intend to make the site as inclusive as possible for people with disabilities."
A disabled toilet will be installed as part of the refurbishment and a lift will be accessed from the rear of the building. Once in the first floor foyer the box office, bar, screen two, cafe seating area and toilet will all be completely accessible by wheelchair.
The first floor of the building will be completely refurbished whilst the existing stairs, stepped facade and glass doors will remain.
Screen One will contain around 150 seats offering three seating categories: standard, luxury and sofas for two. Whilst the new Screen Two will contain 62 seats along with space for two wheelchairs.
The intended opening hours are from 5pm to midnight Monday to Friday, 10am to midnight on Saturdays and 1pm to 10pm on Sundays and bank holidays.
The plans can be viewed on the Cheshire East Council website by searching for planning reference 18/4422M. The deadline for submitting comment is October 17th and a decision is expected by 2nd November.
Tags: