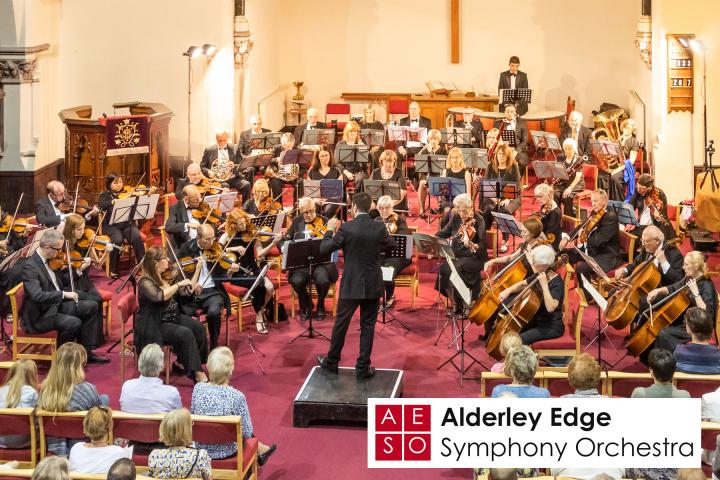 Alderley Edge Orchestra has a long, proud history of making music since 1922 and over the last 3 years the orchestra has raised its profile, employing professional conductors and performing an ambitious range of music to capacity audiences.
In recognition of its achievements and further ambitions, the orchestra has decided to rename itself The Alderley Edge Symphony Orchestra.
Richard Howarth, President and Chief Conductor of the orchestra says, "I'm very excited about the future of the orchestra as we build our audiences and increase the number of playing members. The change of name to Alderley Edge Symphony Orchestra marks the beginning of a new chapter with a promise from us all to engage with as many music lovers as possible, whether participants or listeners. With our new name we aim to stimulate local concert-goers to sit up and take notice!"
The first concert under the new banner will take place on Saturday 17th November, conducted by Orr Guy.
In this concert, which coincides with the 100th anniversary of the Armistice, the orchestra will pay tribute to those lost in both great wars. George Butterworth, killed in the Battle of the Somme, set to music poems from A E Housmnan's The Shrophsire Lad. Vaughan Williams, a contemporary and friend of Butterworth, also celebrated the beauty of the English countryside in his song cycle, Songs of Travel. The programme will also include Beethoven Symphony no 7.
Vienna-based conductor, Orr Guy says, "Having conducted the final Alderley Edge Orchestra concert in May, I'm delighted to be invited back to conduct the inaugural concert of the Alderley Edge Symphony Orchestra in November. And what finer symphony to mark the occasion than Beethoven's exciting Seventh – it will be a great evening!"
The concert will commence at 7.30pm on Saturday 17th November in Alderley Edge Methodist Church. Tickets cost £10 for adults and £1 for under eighteens. Tickets will be available on the door or can be bought in advance through the website or on the ticket hotline 01625 581321.
The orchestra is particularly keen to welcome more string players to enhance that big symphony sound!