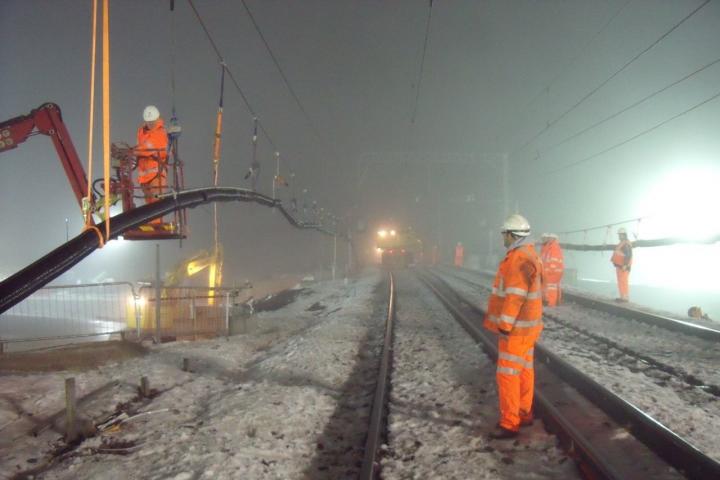 As reported last month the on-going construction of the A34 Alderley Edge bypass is running on-time and today Cheshire East Council have said it is also running on budget.
Having installed the new railway bridge during the Christmas holiday period, work is underway to construct three road bridges and a footbridge together with the new carriageway, surfacing, kerbing and drainage.
The new bypass, which is due to be completed by Spring 2011, will cost £52 million, with the majority of the budget (£48.4m) funded by the Department of Transport.
Cheshire East Council Head of Environmental Services, Phil Sherratt, said: "The work is moving along very quickly now. At this stage I am confident that the installation will remain on budget and on-time. Once completed, this long-awaited bypass will be an essential commuter route around Alderley Edge and Nether Alderley. I am aware that the work has caused an inconvenience to some drivers and local residents and I thank them for their continued patience."
Cheshire East Council's Project Manager for the Alderley Edge bypass, Doug Mackie, added: "Despite the cold weather, which has affected progress the civil engineers firm, Birse are striving to complete the works ahead of schedule. A lot now depends on the performance of utility companies who have major service diversions over the new bridges."
The following local roads will be effected by the bypass works over the coming weeks:
Harden Park Roundabout
There will be off-peak lane closures of the inner circle to facilitate the filling of the centre island during February.
Brook Lane
This road will be closed from Tuesday March 2nd for approximately 20 weeks. A diversion will be in place via the Kings Arms roundabout. This closure is to enable the construction of the road over the new bridge. Access for pedestrians will remain.
A34 (Ryleys Lane – Brook Lane)
Works to install new ducts for BT, mainly on footways, will take place with some off-peak temporary lights on the A34. Ryleys Lane will be closed at the weekend with a signed diversion via Monks Heath. This work will coincide with the school half-term (February 13th – 21st).
Frog Lane Roundabout
Temporary lights are in place to complete the construction of the new roundabout, which should be opened by late February.
Bollington Lane
This road will be closed from February 15th, with access for residents only. This is so the existing road can be widened and resurfaced. It is expected to take 16 weeks to complete.
A34 / A537 - (Bollington Lane / Monks Heath junctions)
Lane restrictions, off peak where possible, will be in place over the next few months to construct the junction improvements.
Local residents are reminded that, should they have any queries, the site office is open every Wednesday morning from 9am until 10.30am. This is situated on Soss Moss Lane, Nether Alderley.
An evening drop-in session is planned for Thursday March 11th from 6pm until 8pm at the Methodist Church in Alderley Edge. For further information see our events calendar.
Tags: