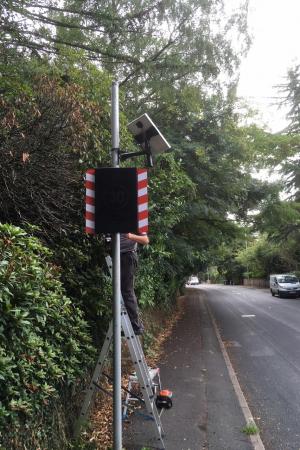 A new interactive speed sign, which has been purchased by Alderley Edge Parish Council, has now been installed on Congleton Road.
Councillor Craig Browne said "Assisted by our Parish Lengthsman Paul Redwood, I installed the new sign on Thursday morning and at the same time moved the existing speed indicator to its new home on Brook Lane. These locations have been identified as particular hotspots over recent months by our Community Speedwatch volunteers.
Later in the year the Parish Council will be purchasing another interactive speed sign, with the intention of installing it on Heyes Lane, which has also been identified as having a problem with speeding vehicles.
Volunteers from the Community Speedwatch team carried out a session on Congleton Road between 4pm and 5pm on Tuesday, 14th August.
Councillor Craig Browne said "Unfortunately despite our PCSO recently targeting this location with the Trucam and issuing speeding fines, the problem continues."
On this occasion the volunteers recorded 32 vehicles travelling in excess of the speed limit during the hour. Eighteen vehicles were speeding below 40mph and 14 were travelling over 40mph. The highest speed recorded was 48mph and the average speed recorded was 40mph.
Their next session will take place on Thursday 30th August. If any local residents would like to join the team, please email Craig Browne.
Tags: