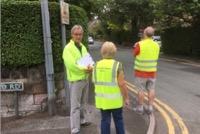 In response to concerns from residents, volunteers from our Community Speedwatch team and Councillor Craig Browne were out on Trafford Road on Wednesday, 1st August,
During half an hour spent by the junction with Stamford Road, they did not record a single vehicle speeding along this section. They therefore decided to spend the second half an hour on Heyes Lane, next to the allotments, and during this time they recorded ten vehicles exceeding the speed threshold.
Two of the vehicles were travelling at 40mph or over and the highest recorded speed was 43mph.
Councillor Craig Browne said "We are still looking for more volunteers to help run these sessions, so if you are able to give up an hour a month, please let me know."