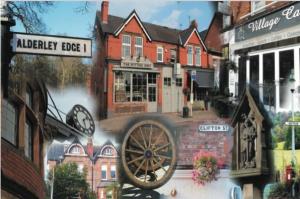 Alderley Edge is one of many towns and villages across the borough that is busy making a neighbourhood plan, which will contain a number of policies specifically designed to shape local development.
They can, for example, help delivery of local employment and protection of wildlife and green spaces around their communities, as well as bolster good design and meet the housing needs of local residents.
In Cheshire East, 51 Neighbourhood Plans have been completed or are currently in production and the Alderley Edge steering group is progressing well with our village plan which will set out objectives and priorities for the next 15 years.
Sarah Greenwood of of Alderley Edge Neighbourhood Plan steering group said "Our Neighbourhood Plan will propose policies to promote the evolution and growth of Alderley Edge, whilst preserving our unique village culture, identity and character, and protecting the quality of life and well-being of the residents, businesses and other stakeholders.
"Our Plan is progressing well and we have now appointed specialist consultants, Urban Imprint based in Macclesfield, to assist us in the next stage of development; to provide a framework in which the policies can be developed and offer expert advice on our approach and strategy.
The Plan team comprises five groups developing policies around the themes of housing, transport and infrastructure, local economy, community and well-being and the heritage and character of the village.
The Local Economy Group is headed by local resident Penny Bell, who has experience of working with businesses and stakeholders in other areas to create sustainable towns as well as involvement in developing neighbourhood plans, and supported by a team of enthusiastic residents and business owners with expertise covering tourism, property, hi-tech science, retail, leisure, place management and economic growth.
Sarah Greenwood said "To date, the Local Economy Group has put together an initial list of priorities designed to support local businesses and a thriving village economy. The next stage is to refine these suggestions into realistic policies that can really help the village retain its character and continue to prosper as a vibrant centre fit for the future."
The Housing Group led by Mark Allison, a local resident and architect, is looking to support new housing development that maintains and enhances the culture, identity and character of Alderley Edge. Its work focuses on three themes: affordability, environment and sustainability and technical factors which will contribute to design guidelines.
The group, which is includes eight local residents with a particular interest in housing, will work with the Heritage Group to evolve policies that can influence future planning applications.
The Transport and Infrastructure group headed up by Myles Garbett, resident and Parish Councillor, have been investigating issues related to traffic, car ownership and the public realm.
The Heritage and Character group, which is currently being built, will assess and produce guidelines relating to what many people feel makes Alderley Edge a special place. Whilst the Community and Wellbeing team is concentrating on quality of life and community issues.
The Heritage and Character group will be carrying out a series of walking surveys of the village to record its typical buildings and neighbourhoods. Alan Davies, who is leading that group, explained "Our village has many distinctive architectural features, not just the original Victorian villas in the conservation areas, but also more modern buildings including the Tower Garage. We want to capture as much of this detail as we can to use in guiding future planning decisions. We need more people to help us complete these interesting and valuable surveys."
Urban Imprint are working with all five groups to bring their diverse areas of interest together and ensure a holistic approach to form a unified Neighbourhood Plan. They have committed to completing some draft policies by end of summer.
Sarah commented "These will be based on the research and feedback we have to date. We would then hope to publish these early Autumn to get feedback from local residents and businesses. If residents and businesses would like to be included in the consultation, they should join our database by emailing alderleynp@gmail.com."
"Additionally, the steering group would welcome the support of a volunteer with website design and building skills as we move towards launching our website."
Tags: