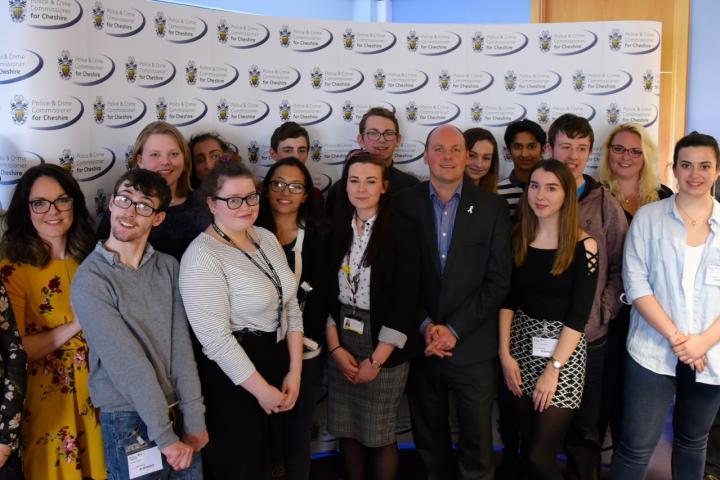 Mental health, sexual harassment, and staying safe online are just some of the key issues affecting young people in Cheshire highlighted in a recent report.
The Cheshire Youth Commission produced the report following a consultation with more than 2,000 young people across the county to give the police and partners a better understanding of key issues which affect them.
The Youth Commission also found young people considered drug and alcohol misuse and having trust in the police force as important issues to be addressed.
The report also provides recommendations to tackle these issues, which include police having a more active role in schools enabling them to be more open about issues with drugs, education establishments taking a more active role in talking about sexual harassment and consent with students and allocating a PCSO to each school to give young people a "familiar face" in their police service.
Cheshire's Police and Crime Commissioner, David Keane said: "It's incredibly important for young people to be given the opportunity to have their say on key policing issues which affect their everyday lives, with more than a quarter of residents in Cheshire under the age of 25.
"The Cheshire Youth Commission has worked extremely hard over the last year to capture a range of feedback from our diverse communities which has been used to develop their priorities and recommendations.
"It is now the responsibility of all of us in positions of influence to consider how we can work together to implement these recommendations."
The commissioner is now looking to recruit more members to this year's Youth Commission.
Anyone aged 14 to 25 who lives, studies or works in Cheshire is able to apply to be on this year's Youth Commission, giving them the chance to take part in this year's consultation to have an enhanced advisory role on policing issues and support key police operations.
David. Keane added "Joining the Youth Commission is a fantastic opportunity for any young person interested in policing or criminal justice who wants to make a real difference to their community.
"The Youth Commission plays a huge role in helping me engage with young people, giving up their own time to talk to other young people about the priorities that matter to them. I am sincerely grateful for their continued support."
Rose Dowling, director at Leaders Unlocked who coordinate the Youth Commission in Cheshire, added: "We are delighted to offer the opportunity for more young people to get involved with the Cheshire Youth Commission this year.
"Successful applicants will be collaborating closely with the PCC and constabulary to make a real difference to policing and crime in Cheshire in the year ahead.
"We intend to select a very diverse group from across the county, including groups that are often overlooked and those with lived experience of the police and justice systems."
Further information about applying for the 2018 Youth Commission is available on the commissioner's website. The deadline for applications is 20 July 2018.
Photo: David Keane with Youth Commission members.