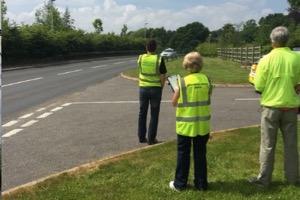 Councillors Craig Browne and Geoff Hall were joined by PCSO Anna Jenkinson and a local resident for a Community Speedwatch session on Thursday, 31st May.
On this occasion they were located on Brook Lane between 1pm and 2pm, which they described as "one of our busiest sessions to date".
During the hour 40 vehicles were recorded exceeding 35mph, where the speed limit is 30mph, which equates to a speeding vehicle every 90 seconds.
The highest recorded speed was 47 mph, whilst the average speed of all vehicles was 38.8 mph. 28 vehicles were travelling between 36 and 39 mph and 12 vehicles were travelling over 40 mph.
Councillor Craig Browne said "The evidence we collected helps to support the Parish Council's recent decision to purchase an Interactive Speed Sign, to be positioned on Brook Lane. Following the disappointing results, PCSO Jenkinson plans to carry out a follow up session with the Truecam (which enables penalty notices to be issued) at this location in the near future."