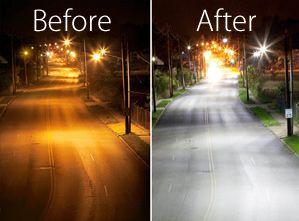 Cheshire East Council has confirmed that they will be upgrading a large number of street lights in the village by converting them to LEDs.
Councillor Craig Browne said "With financial assistance from the European Local Energy Assistance (ELENA) programme, Cheshire East Council is currently investing in more energy-efficient street lighting across the borough, by upgrading to Light Emitting Diode (LED) technology."
Between May and August, Cheshire East Highways will be replacing all the street lights and, where necessary, some columns on the following roads across Alderley Edge:
Aldford Place, Oakhurst Chase, Annis Close, Crescent Road, Duke Street, Gail Close, Moss Rose, South Bank Close, Arderne Place, Brown Street, George Street, Green Street, Massey Street, Orme Street, South Grove, South Street, Beaufort Close, Devonshire Drive, Marlborough Avenue, Beech Close, Beech Road, Elm Crescent, Elmfield Road, Heywood Close, Heywood Road, Maple Road, Wood Gardens, Beech Cottages, Carlisle Street, Lynton Lane, Netherfields, Thurston Green, Beechfield Road, West Bank, Blackshaw Lane, Downesway, Meddings Close, Brook Lane, Chapel Road, Orchard Green, Stevens Street, The Avenue, Chelford Road, Chorley Hall Lane, Church Lane, Davey Lane, Lydiat Lane, Clifton Street, Stamford Road, Talbot Road, Eaton Drive, Haddon Close, Meadow Brow, Meadscroft Drive, Sutton Road, Fairbourne Avenue, Oakfield Close, Oakfield Road, The Circuit, Grasmere Road, Redesmere Drive, Thirlmere Close, Windermere Drive, Greystoke Drive, Heyes Lane, Macclesfield Road, Moss Lane, Moss Road, Mottram Road, Russet Way, Brook Lane, Swiss Hill, Tempest Road, Underwood Road, Trafford Road, West Street, Whitebarn Road, Wilton Crescent, Woodbrook Road.
Tags: