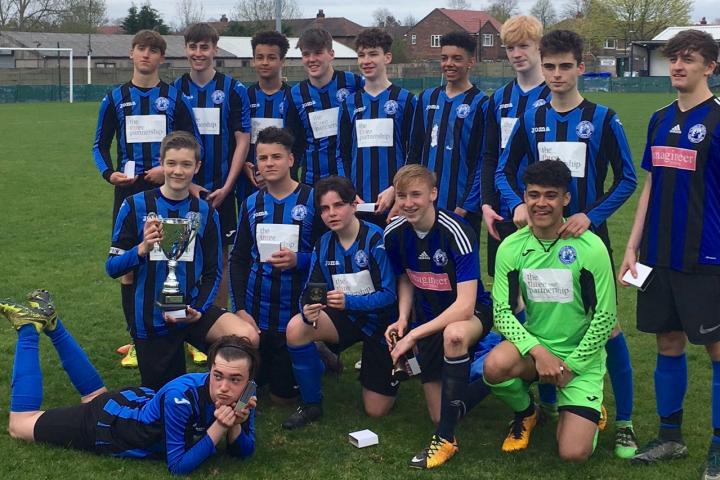 On Sunday 22nd April, under the overcast skies of Flixton in Trafford, two teams lined up to compete for the U16s Timperley & District League Cup. With Alderley United and Egerton Tatton having already played two teams to get to the final, there was a great deal at stake.
The sizeable crowd, made up of friends and family, watched the Alderley United's U16s win their first piece of silverware of the 2017-18 season.
From the first whistle, the game was played at considerable pace. In the first 30 minutes the game was evenly matched with both teams probing and having chances denied as each keeper made brave saves. The deadlock was broken by Alderley, just after the half-hour mark when striker Cameron Lee poked the ball under the keeper.
Alderley United's solid defensive back four, tough midfielders, fast, agile wingers and strikers continued to attack to try and grab a second. However, Egerton Tatton countered and drew more saves from the Alderley keeper.
Soon after the break, Cameron Lee, again using his strength in the 18-yard box, buried his second of the day to put Alderley United two goals ahead. Not deterred by being two goals behind, Egerton Tatton wouldn't let the final go and grabbed one back for a nervy last 15-minutes.
With minutes to spare, Egerton's keeper came up for the corner to try and grab an equaliser to take the game into extra time. When the ball broke free from the goal-mouth scramble, Luca Pogson tried a long-range shot from the halfway line, which narrowly missed.
Despite a few tasty incidents, first official Sam Gregory and his assistants Hallam Thomas and Eddie Gregory controlled the game impeccably and Alderley United ran out Cup Final winners.
Alderley United got to the final in convincing style; scoring 10 goals, conceding 3, overcoming two tough teams and outplaying in a feisty semi-final against the top of the league team.
With Alderley United in second place with still four games left to play on Sundays and Wednesdays, there is still the opportunity this team could win their league and gain promotion, potentially sealing a League and Cup double.
Match report by Andrew Vale.