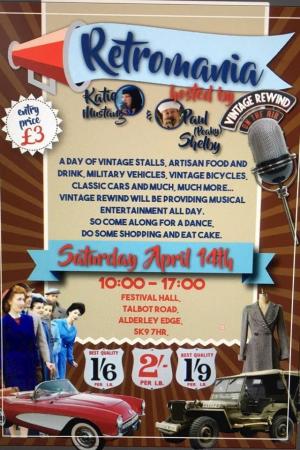 A new event is taking place in the village this month which has been organised to revive people's memories of the old Regal Ballroom.
Retromania will be held at the Festival Hall, home of the Regal Ballroom from 1948 and 1968, on Saturday 14th April from 10am to 5pm.
The vintage event will include an all-day tea dance with period Swing music from the 1920s to the 40s, plus live vocalists and dance displays.
Experienced Swing dancers will be available to give impromptu lessons to anyone who wants to have a go at Swing, Lindyhop and Jitterbug.
There will also be nearly 20 stalls selling vintage items, classic cars, food stalls, bicycles, and a Tweed Ride.
John Wallace explained "This is a local, easy, short-distance group bicycle ride for anyone who wants to join in. There will be a core of participants riding vintage or period-style bicycles and wearing period dress - but anyone can come along, wearing any style of clothes and riding any bike."
John added "We're really hoping to establish this as a regular event that raises the profile of the village in a positive community manner, so as to enrich the social life of the village."
Entrance to Retromania is £3.
Tags: