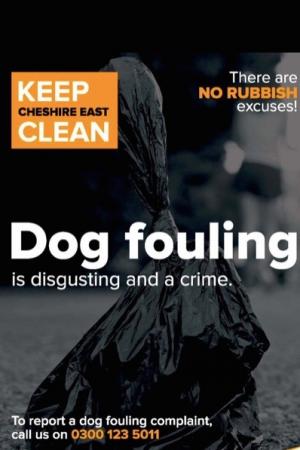 Dog owners are being urged to dispose of their dog's waste responsibly when visiting the The Edge rather than hang the bags in trees, or throw them in the hedges and on pathways.
Several readers have contacted alderleyedge.com to express their disgust that the lovely countryside is being spoilt by the large volume of bags being discarded at the National Trust site.
Rob Todhunter said "My wife & I enjoyed a stroll on Sunday last along the edge at Alderley Edge.
"What spoilt a lovely walk was the large number of discarded dog poo bags. I counted in excess of 20 bags, dropped everywhere, behind trees, on paths, next to gates, literally everywhere.
"I did not see any signs warning about dumping these bags, nor any specific bins, however perhaps some CCTV cameras/ signposts maybe a deterant to stop this disgusting act."
Christopher Widger, Countryside Manager Cheshire and Wirral National Trust, said "Around 300,000 people visit the National Trust property each year and we believe around 50,000 dog walks take place annually. We have good relationships with many of the regular dog-walkers at the Edge and many of them help us to look after this special place by disposing of their dog waste responsibly. However, not all our visitors take responsibility for their dog waste and this is a real problem for the team at Alderley Edge and is impacting on the experience for our visitors also.
"There are an estimated 8.5 million dogs in the UK and there is an issue around irresponsible dog ownership, not just at National Trust sites, but in society generally. We work hard to tackle the problem at Alderly Edge by displaying signs at entrances, which were refreshed only a few weeks ago, but we find these have limited impact on tackling the problem. We have in the past considered adding bins but having to manage these would be a huge demand on our ranger and volunteer teams as the volume of dog walkers at the Edge would mean we'd need to empty the bins more than once each day, if everyone were to use them. The cost of doing this would be very high and as an independent charity, entirely unfunded by the taxpayer and supported by membership subscriptions, we should be prioritising our resources towards the conservation of our sites and the protection of these beautiful places for future generations.
"In order to tackle the problem we need dog walkers to take responsibility for their pets and dispose of their waste appropriately so we can avoid having to enforce penalties. In November 2017 Cheshire East Council introduced a Public Space Protection Order (PSPO), which requires dog-owners to clear up after their dog in order to protect the environment from hazardous dog fouling and reduce risk to the health of residents and property. We hope that visitors continue to recognise that such behaviour is not acceptable and that ultimately, responsibility for dog waste, lies with the dog-owner."
Cheshire East Council beefed up its powers to crack down on dog fouling and dog control by introducing of a Public Space Protection Order (PSPO) to cover all public places and fines for owners who fail to clean up after their dog.
The PSPO came into effect on November 1st 2017 and will allow the council to:
● Tackle those that fail to pick up after their dog in all public places within Cheshire East borough;
● Allow authorised officers to tell a dog owner/walker to put and keep their dog on a lead if necessary, for example, if their dog was showing aggressive behaviour; and
● Issue a Fixed Penalty Notice (FPN) of £100. A failure to pay the FPN may lead to prosecution and a potential maximum fine of £1,000, as would more serious breaches of the PSPO.
Tags: