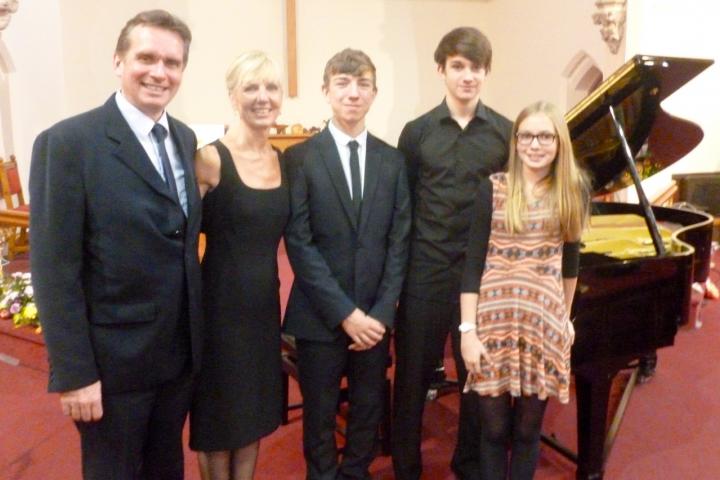 This month's lunchtime concert takes place at Alderley Edge Methodist Church on Wednesday 21st February and will feature a piano recital by members of the McLachlan family.
Matthew, Rose and Callum McLachlan will all be performing pieces by Chopin.
Jean Walker said "It will be a delight to host these young performers, whose parents, Murray McLachlan and Kathryn Page, are both eminent pianists."
Murray McLachlan is Chair of the European Piano Teachers' Association), Head of Keyboard at Chetham's School of Music and a Senior Tutor at the Royal Northern College of Music. Additionally he is founder and artistic Director of the Chetham's International Summer School and Festival for Pianists, Europe's largest summer school devoted exclusively to the piano.
Whilst his wife Kathryn Page is also an accomplished performer, examiner and adjudicator with a connection to Alderley Edge, where she has often adjudicated for the Alderley Edge Festival.
Callum McLachlan started piano lessons with his father at the age of 7, and after 4 years passed grade 8 at the age of 11. He was accepted into Chetham's School of Music in 2010 where he studied with Russian pedagogue Dina Parakhina. He has performed at many prestigious concert venues around the country, including Bridgewater hall, Steinway hall and RNCM. He was awarded the highest diploma from Trinity College – the FTCL - and has had much success in competitions throughout the UK, winning 1st prize in the Welsh International Piano Competition (U19), The Scottish International Youth prize, as well as reaching the national finals of the EPTA piano competition. He also won 1st prize in the Chetham's Yamaha Piano competition, Chopin competition and the Bach competition, and is a prize-winner of the Musical Odyssey Masterclasses Talent Unlimited Prize.
Matthew McLachlan passed grade 8 piano at 11 years of age and entered Wells Cathedral School as a specialist musician, studying with John Byrne. After two years in Somerset he entered Chetham's in Manchester where he now studies piano with Dina Parakhina and Cello with Gill Thoday.
Matthew was awarded the ATCL recital diploma with distinction in 2014, the LTCL, also with distinction in 2015 and the FTCL in 2016. His performance of Ravel's G major Piano Concerto was commended in the Chetham's Concerto competition this year, and he was a prizewinner at the 2014 Mazovia Chopin Festival in Poland. As a result of his performance in Mazovia, he was selected to perform a 60 minute solo recital at the 2015 World Piano Teachers' Conference and in 2016 he was awarded 3rd prize in the senior section of the Scottish International Youth Prize. Last year he won the Chetham's Bach prize and 2nd Prize in the Chetham's Yamaha Competition as well as 2nd Prize in Poland in the Krystian Tkaczewski International Piano Competition.
Rose McLachlan has been playing the piano since 2008 and entered Chethams School of Music in 2010 as a chorister at Manchester Cathedral. In 2012, she passed Grade 8 piano with 144/150 - distinction and in 2017 was awarded the LtCL performers diploma with distinction. Rose was the overall winner of junior and senior classes of the 2016 Scottish Youth Prize at the Royal Conservatoire of Scotland. She also won the Sir David Wilcocks Organ Scholarship 2014/15.
Admission is by programme, £5, available at the door.
Light lunches are served from 12 noon and the concert will commence at 1pm.
For further information email aemcchurchoffice@gmail.com or call 01625 586713.
Photo:
Photo: The McLachlan family.