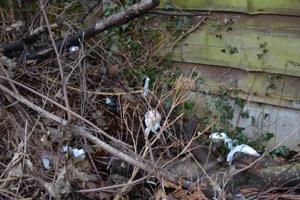 A volunteer and regular litter picker Judy Turner has identified areas around the village which require cleaning up and also highlighted that some inconsiderate local dog owners are failing to take their doggie bags home with them or place them in a bin.
Judy Turner chose to take a different route out of the village centre last week and spotted areas where action was needed to remove lots of rubbish, including Mottram Road, The Hough, Moss Road, Marlborough Avenue, Moss Lane and Trafford Road.
She said "At the junction of Trafford Road and Mottram Road there is an overgrown area with substantial amount of rubbish – mostly plastic but general rubbish as well. It needs some attention."
Judy added "At the bottom of Squirrels Jump there are two BT cabinets. The older one was stuffed with doggie bags over a long period, I guess, but they hadn't disintegrated. At the Marlborough Avenue end of the street there is a small overgrown garden area (which could look good with a bit of attention). It has become an area for general dumping of waste but particularly doggie bags."
She continued "The worst issue seems to be doggie bags – in hedgerows, behind BT cabinets, just on the pavement, anywhere but in the proper receptacles! Maybe get a doggie bin at the bottom of Duke Street?
"What about a sign there and on the BT cabinet to remind dog walkers of their responsibilities?"
Tags: