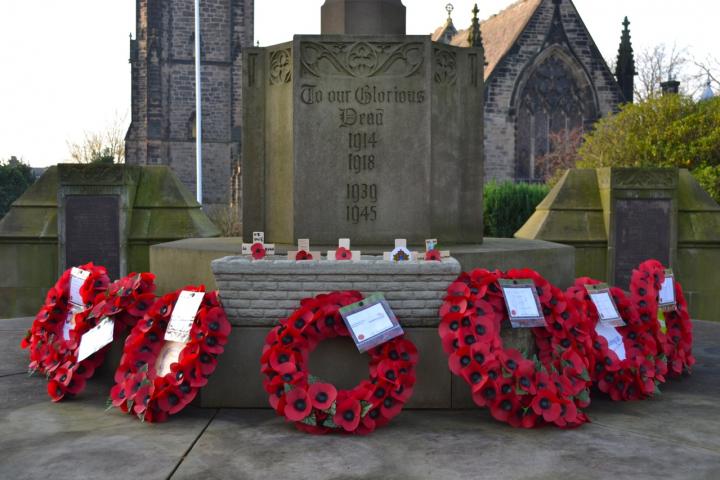 Each month Michael Scaife is producing articles for the St Philip and St James Church news sheet to remember those local residents who died in that month 100 years ago.
There are 71 men recorded on the Alderley Edge War Memorial, along with one member of the British Red Cross and a further 6 are remembered in the annual Remembrance Day service:
As there were no major offensives in February there were no deaths among the men of Alderley Edge serving in the various battle zones, but there were four in March. So this month's article will commemorate two of those four.
On March 6th, Sapper James Lionel Ross died in Egypt. He is buried in Cairo War Memorial Cemetery. The Advertiser says he 'had been in Palestine lately', so it is likely that he had been wounded or taken sick in Palestine and hospitalised in Egypt. He was serving in the 359th Water Boring Company, Royal Engineers, a posting which made use of his skills as a plumber in civilian life. Born in 1883, he was the son of James and Christine Ross, who were living in Heaton Moor but by 1901 had moved to Moss Lane, Alderley Edge. The census in that year described James as a plumber's apprentice. He married Frances Ostick in 1905 and in 1911 they were living in Salford. It seems likely that they then moved to Leicestershire, as he enlisted at Mountsorrel and is listed in Leicester and Rutland Soldiers Died. At the time of his death, his widow was living with her sister and brother-in-law in Chorley Hall Lane.
On 17th March, aged only 20, Lieutenant Stuart Bolton, King's Own Royal Lancaster Regiment, was killed in France. His family had moved to Alderley Edge comparatively recently. The son of William Bolton, a chartered accountant, and his wife Annie, he was born in Urmston. The family were recorded in Urmston in the 1911 census, but by 1914 were at Chesham Knoll, Alderley Edge (Kelly's Directory). In 1915, aged 18, Stuart joined the Inns of Court Officer Training Corps, and was commissioned in the Royal Lancasters in 1916. After posting to France he was attached to a Trench Mortar Battery. He is buried in Gorre British and Indian Cemetery. His elder brother, Clifford Bolton, had been taken prisoner in October 1916 and was in a German prisoner of war camp.
Tags: