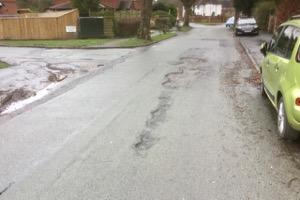 Cheshire East Council has confirmed that a section of Oakfield Road will be resurfaced during the next financial year.
Following recent discussions between Councillor Craig Browne and Cheshire Highways, Level 2 patching (as completed on Talbot Road outside the Medical Centre in 2016) is to be carried out on the section of Oakfleid Road which is opposite the junction with Crescent Road.
The work will be carried out early in the new financial year.
Drivers are reminded to allow extra time for their journey from Monday, 19th February to Friday, 23rd February when Wilmslow Road will be closed to enable Cheshire East Council to resurface a 70m section and reconstruct a 20m section at the top of Brook Lane.
Tags: