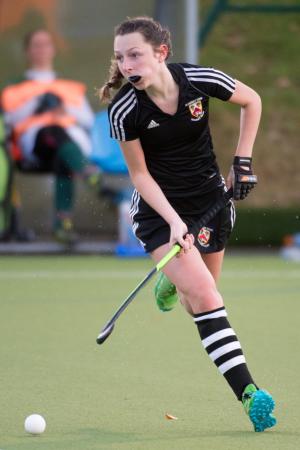 AEHC swapped festive fare and the odd sherry or two for what, for most teams, were their first competitive matches of 2018. The fixture calendar is already looking very congested though with several games cancelled from before Christmas and due to be played on Sunday postponed again due to frozen pitches.
The Ladies 1s didn't have a game and the Mens 1s had a friendly against Leek where they went down 2-3. Contrary to the result the men played well but struggled defensively when their goalkeeper had to be replaced by a kicking back in the second half. They re-start their North Premier League campaign against local rivals Bowdon 2s next weekend.
The Ladies 2s started 2018 as they ended 2017, with a win. They continued their dominance of Cheshire League 1 by beating visitors Northop Hall 6-1 on Saturday. Edge's first goal came from a fantastic left slip short corner which was pushed out by Nic Hall to a waiting Lottie Wright who smashed it confidently into the back of the net.
Their 2nd goal came soon after when Man of the Match Lexi Archer finished off a great run of team play before Izzy Mowatt added a third just before half time after a scramble in the D. Edge maintained the pressure in the second half, with Lois McTiffin making the most of a great pass from Emily short and tapped the ball into the back of the net. Jude Offer then smashed a fantastic cross across the D to a waiting Lexi Archer who scored her second of the game. Sadly Northop then took advantage of the 2s slight lack of concentration before Nic Hall rounded things off for the home team.
The 3s suffered a tough 1-2 away loss to Chester in the same league. Despite dominating much of the play during the first half they found themselves 0-1 down at the break after Chester scored from a short corner.
The second half was more even and Edge started to get a bit desperate and became guilty of not passing the ball between themselves. Nevertheless, Izzie Broadhurst managed to work herself enough space to bury an equaliser with two minutes remaining. Unfortunately, Chester then then earned themselves a penalty flick when a goal-bound shot was stopped with an Edge player's foot. Despite a great effort from Cat Parry in goal, the flick was well-despatched and, with less than a minute left, Edge couldn't fashion another chance.
The 4s started the year positively with a 1-0 win over Buckley 1s in division 3 on Saturday. The first half was very even with both teams generating chances and some great goal keeping from Man of the Match Karen Ogden saw the score remain at 0-0 at half time. The game looked like it was heading for a draw until three minutes from time when Katy Smith found the back of the net.
The 5s lost their away fixture on Saturday 0-1 to Lymm 4s while the 6s trip to Crewe proved a happier one when they earned themselves a 3-1 win over Vagrants 4s to move up to third place in division 5. The 7s also had a great start to the New Year, notching up their sixth win on the bounce with a 5-0 victory over Oxton 4s.
The Mens 2s friendly against West Derby 1s ended in a satisfying 6-2 win to Edge who dominated the game from start to finish with too much pace for the opposition to handle. Stand out performers were Jack Smith (3 goals) and Todd Leddy (1 goal) with Joe Coxon and Adam Robertson also scoring.
The 3s beat Stockport Bramhall 1s 2-1 in division 3 to keep themselves in the top three on the league table but made heavy weather of win.
A physical and organised Bramhall side settled quickly, despite playing an Edge side that included a higher than usual quota of experienced players, and opened the scoring before Edge found an equaliser seconds before the half time whistle.
Edge improved in the second half, particularly in the passing department, with Captain and Birthday Boy Andy Walker leading by example to score what turned out to be the winning goal.
The 4s also retained their third place in division 4 with a 1-0 win over Deeside Ramblers 4s, ahead of facing Sale 1s next weekend who sit one place below them in the league. After a somewhat sluggish first half Edge came out in the second half with far more purpose and urgency and after about ten minutes Rob Marks' shot in the D was helped inside the post by Chris Sinton.
The 5s didn't fare as well in their match against their Deeside Ramblers opposition in division 5 and went down 0-9. The 6s had a more positive visit to Timperley and beat their 5s 2-0 in division 7. AEHC 7s fared less well against Timperley's 6s at Kings Macc and eventually lost a close match 2-3.
Beavers A started the New Year with a 3-2 win against local rivals Wilmslow. On a bitterly cold late afternoon in Styal, three goals in the first third were enough to seal the result despite a strong comeback from Wilmslow. Archie Offer scored twice with Ethan Bennion also deflecting in a strong hit from Joe Stonier.
The all-girl Beavers B team also had a good day, playing their best hockey of the season to beat Preston 3-2 away. The Badgers went down 0-2 to Northrop Hall at The Edge but the boys worked hard and continue to learn all the time.
Photo: Ladies 2s Player of the Match Lexi Archer, courtesy of Kingfisher Media Services.
Match report by Sue Polley.
Tags: