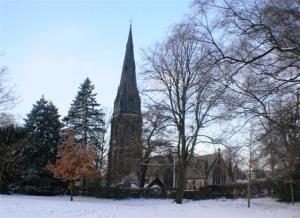 St Philip & St James Church are holding a community carol service which promises to be a very musical one on Thursday 14th December.
The service will commence at 6.30pm featuring the choir of Alderley Edge Primary School who will be singing carols and their bell ringers will also play some seasonal tunes.
Additionally, the congregation will also have a chance to sing a number of traditional carols led by a group of folk musicians. Afterwards mulled wine and mince pies will be served in the West End of the church.
A collection will be taken at the service and will be shared between the Mother's Union and Syria Relief. The local branch of the Mother's Union will use the money to provide Christmas presents and essential supplies to homeless people supported by Riverside Housing in Wilmslow. Syria Relief provides support, mainly health and education, for refugees from the fighting in Syria who live in Idlib province or in neighbouring countries.
Robin Pye, the vicar of St Philip & St James, said, "Jesus was born homeless and was laid in a manger. Soon after his birth, in order to escape the persecution of Herod, his family fled to Egypt and so he became a refugee. As God reveals his love for the world in the shape of a child who was homeless and a refugee, so we will ensure that our celebration of the joy we feel at the birth of Jesus remembers to include those who are homeless and fleeing from violence today."
The church has recently begun a project taking fresh food that would otherwise be thrown away as waste from the Tesco Express branch in Alderley Edge to food banks and homeless shelters in Macclesfield, Wilmslow and Knutsford.
Robin said, "We have been greatly encouraged by the number of people who have stepped forward to help us distribute this food and we hope to bring other retail and catering businesses in Alderley Edge into the scheme in the New Year."