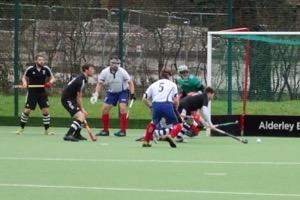 AEHC Mens 1st XI had justifiable reason to feel proud of themselves this weekend after beating Whitley Bay and Tynemouth 7-0 in their North Premier League clash on Saturday and local rivals Timperley 5-2 in the England Hockey Cup on Sunday.
Saturday's win elevates the Men to third place in the league ahead of their final game before the Christmas break against Didsbury Northern next weekend. They were just 1-0 up at half time after the long trek up the A1 but Coach Amanda Partington's mid-point team talk appeared to make all the difference. Edge came out all guns blazing in the second half. Johnson, Buckingham, Hall, Gregory and Parker all found the back of the net with Captain James Warburton also neatly converting a penalty flick.
The 2s were left rueing missed opportunities after they went down 0-2 against Liverpool 1s in North league division 2 and will be hoping to take three points from next week's home fixture against Deeside Ramblers 2s. Conversely, the 3s enjoyed a 3-0 win over Mossley Hill 1s to retain third place in North West division 3.
The 4s continued their great run of form which now sees them eight games without loss. They beat Colwyn Bay 2s 6-3 with two goals apiece for Chris Sinton, Ali Smith and Man of the Match James Parkin.
The 5s, 6s and 7s all lost their games against Chester 4s, Sandbach 2s and Brooklands 7s respectively.
The Ladies 1s suffered only their second league defeat of the season when they went down 1-4 at home to Didsbury Northern in their Premier League North fixture. Edge opened the scoring after Sarah Hopkin made the most of a short corner but, from thereon in, the goals just wouldn't come despite several goalmouth scrambles and short corners. The Ladies still sit fourth in the league and will need to be on top form next weekend when they take on league leaders Leeds on Saturday and second-placed Whitley Bay in a re-arranged game on Sunday.
The 2s and 3s faced each other in Cheshire league division 1 with the 2s coming out on top, but only just. The league-leaders faced sustained pressure from the ever-improving 3s whose recent form must surely see them rise up the league table in the second half of the season. Lottie Wright and Elise Johnson scored for the 2s, with Tor Parkin pulling one back for the 3s.
The Ladies 4s had a fantastic day beating Warrington 2s, who were 17 points ahead of them in Cheshire league division 3 going into the game, 3-0. Goal keeper Karen Ogden kept Edge's chances alive in the first half making some great saves. Katy Smith then gave Edge the advantage early on in the second half when she converted a penalty flick. This was followed up by goals from Gemma Holland and Lucy Walmsley.
The 5s and 6s both lost their games against Crew Vagrants and Neston but the in-form 7s posted an emphatic 11-1 win over Neston s in division 6 in what was their fifth win on the bounce.
The Over-50s Men's trip to Formby for their third round EH cup fixture on Sunday sadly resulted in a 0-4 loss against the 2016 Over-50s Cup winners. At the other end of the age spectrum the U12 girls enjoyed a 7-a-side tournament where they earned draws against Deeside and Neston but lost to an all-boys U11 team from Bowdon. Daisy Atkins was stellar in goal for Edge. The U11 girls were also in tournament action and earned themselves two wins after also losing to Bowdon.
The Beavers As ran out 5-0 winners against Southport at Wilmslow High School on Saturday. They dominated from the outset with classy passing and movement from all players. Archie Offer, Ethan Bennion, Reuben Frodsham, Joe Stonier and Ben Jackson were the scorers. The all-girl Beavers Bs had their work cut out from the start with several late substitutions and lost 1-4 to Brooklands and the Cs lost their game against Deeside.
Match report by Sue Polley.
Tags: