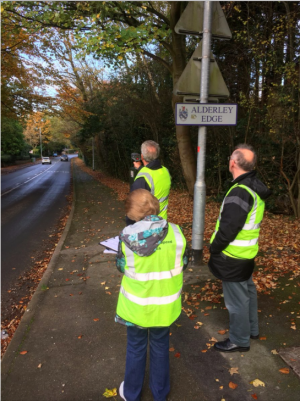 Volunteers spent an hour measuring the speed of passing vehicles on Congleton Road on Thursday, 9th November.
Local community speed watch volunteers were joined by Councillor Craig Browne to monitor traffic travelling in both directions between 11am and 12noon.
Twenty-five vehicles were recorded travelling at 36mph or over in the 30mph limit, whilst twelve vehicles were travelling in excess of 40mph.
The highest recorded speed was 47mph.
Warning letters will be sent to the registered keeper of the vehicles advising them that their vehicle has been recorded speeding over the 30mph limit. If their vehicle is identified as a regular speeder they will be visited at home by a Police Officer.
Councillor Craig Browne said "One driver (who had been clocked at 41mph) did take the time to pull over and suggest that we would use our time more productively in an alternative location!"
The Alderley Edge Community Speed Watch group was established in 2012 in a bid to address the issue of speeding vehicles in the village.
Anyone interested in joining the group can email Margaret Bilsborough.