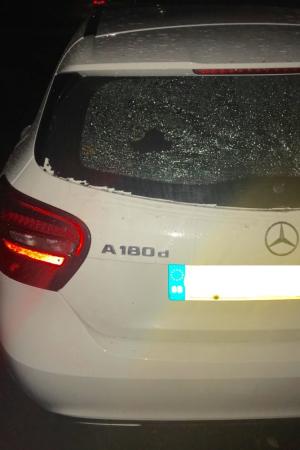 Another car has had its rear window smashed whilst parked on Ryleys Lane.
A lady who had her rear car window smashed on Monday, 30th October, as well as the window of her old car back in May, noticed the vehicle has been damaged in the same way as hers whilst leaving work on Friday, 10th November.
Sarah Cairns said "I do not know who the car belongs to but the damage has been reported to the police.
"I still do not know if the police are going to do anything about it as the did not seem very interested in my case, but I feel if more and more incidents are reported it could only help but a stop to this ridiculous criminal damage and hopefully find the horrible human who thinks it is acceptable to damage people's property in this way."
Police also received a report on Friday, 25th August, that the window of a car parked on Ryleys Lane was broken and reader's have reported seeing at least two other vehicles parked on the same stretch with rear windows smashed.
The targeted vehicles have been parked on the stretch of Ryleys Lane opposite Redesmere Drive and closer to the village.
Anyone with any information about this incident, or any previous ones which were not reported to the police, should contact Cheshire Police on 101.
Tags: