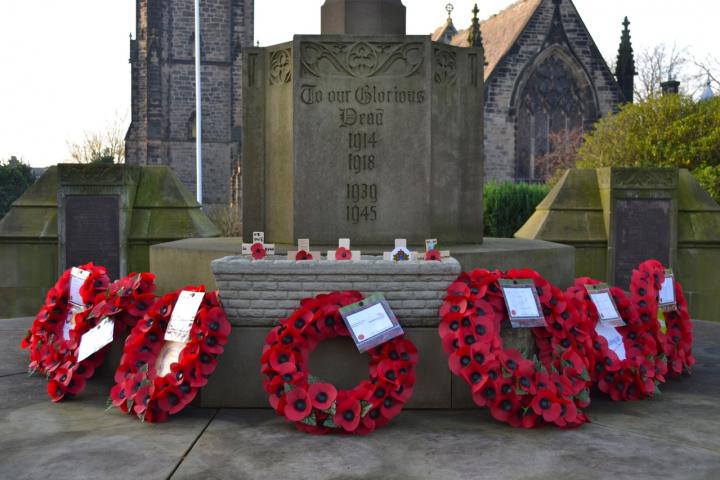 Each month Michael Scaife is producing articles for the St Philip and St James Church news sheet to remember those local residents who died in that month 100 years ago.
There are 71 men recorded on the Alderley Edge War Memorial, along with one member of the British Red Cross and a further 6 are remembered in the annual Remembrance Day service:
On 6th November, the village of Passchendaele was captured and four days later the Battle of Passchendaele (Third Ypres) ended. At a cost of 270,000 Allied and 250,000 German casualties, the Allied line in the Ypres salient had been advanced five miles. Trench warfare continued intermittently throughout the winter and it was presumably in this continuing low level warfare that Second Lieutenant Percy Brookes was killed in action on 22nd November.
Percy Brookes, born 1887, was the son or Richard Deane and Margaret Ellen Brookes. Richard was a solicitor's clerk and the family lived at Laburnum Cottage, Handforth. In the 1911 census Percy was described as an auctioneer and was recorded as a visitor at the home in South Grove of Thomas Wilby, Deputy Clerk to the Justices in Manchester. In 1914 he married Thomas's daughter Ellen. Upon enlistment he was assigned to the 28th London Regiment, which served as an Officers Training Corps in Bailleul in north east France. He was commissioned on 28th August 1917 as a Second Lieutenant in the 6th Battalion, the Cheshire Regiment. This battalion was part of the 39th Division, already engaged at the time in the Battle of Passchendaele. Less than three months later he was killed. He is buried in Hooge Crater Cemetery, three miles east of Ypres and is commemorated in St Chad's Church, Handforth, as well as on our war memorial.
Back in Alderley Edge, the effects of the German U-boat campaign and the consequent food shortages manifested themselves in two notices in the local paper on 30th November from the Local Food Control Committee. The first fixed the maximum retail price of milk at 6½d. per quart. The second in effect invited complaints about prices charged for food, coal and 'any other articles in respect of which maximum prices have been fixed by law'.
Tags: