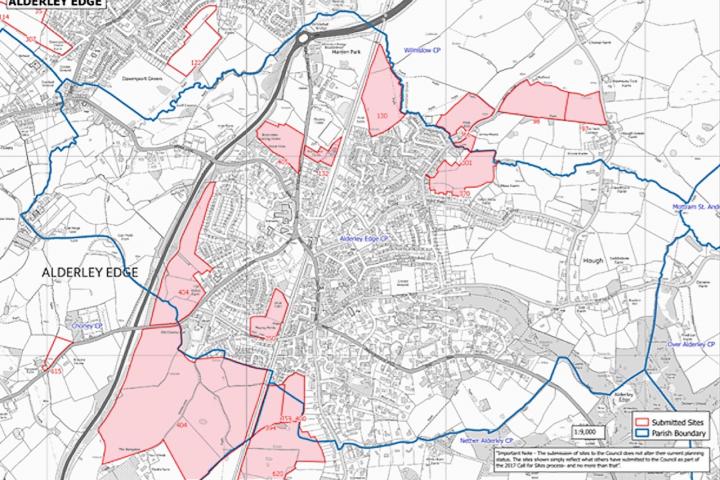 Cheshire East Council (CEC) has published the list sites in Alderley Edge which have been put forward for development in the period up until 2030.
Cheshire East Council adopted Part One of the Local Plan in July, which allocates sites for development and employment land in the Key Service Centres (i.e. the main towns). The focus has now moved onto Part Two of the Local Plan which deals with the Local Service Centres (of which Alderley Edge is one).
Earlier this year, CEC carried out a "Call for Sites" consultation which invited developers and landowners to identify sites that they wanted to develop as part of the Local Plan. CEC has now issued the results of that consultation to Town & Parish Councils.
The sites, as identified on the map above, are as follows:
CFS130 - Land North of Beech Road - 3.80 hectares
CFS132 - Land at Horseshoe Farm - 0.75 hectares
CFS350 Land at Chorley Hall Lane - 1.41 hectares
, proposed for employment use.
CFS359/400 - Land South of Lydiat Lane - 2.43 hectares
CFS370 - Land West of Heyes Lane - 4.87 hectares - proposed for a mix of employment and residential use
CFS394- Land South of Netherfields - 2.23 hectares
CFS404 - Land North & South of Chelford Road) - 47.81 hectares
CFS405 - Land at Whitehall Meadow - 3.27 hectares
CFS620 - Land to the rear of 40 Congleton Road - 14.01 hectares
A spokesperson for the Alderley Edge Neighbourhood Plan steering group, said "We wanted to share this information with residents of Alderley Edge without delay. Please bear in mind that this is just a list of sites identified by developers and landowners. CEC is not recommending them for development at this stage; however, we are very concerned about the potential impact these sites could have if they were included in the CE Local Plan."
They continued "
We have previously shared the known proposals submitted by Story Homes (CFS404, CFS359, CFS400, CFS394), David Wilson Homes (CFS405) and the Sims Family (CFS130), but it is clear from the list that other developers and landowners have put forward additional sites of which we were previously unaware.
The Steering Group commented "The total land mass of the additional sites alone is 20.29 hectares. In a medium density housing area, this would accommodate as many as 1,000 new homes, over and above those already made public. The only means that we as a community have to manage the threat of overdevelopment is to create a sound Neighbourhood Plan - endorsed by the community."
The Parish Council and the Neighbourhood Plan steering group have called a public meeting to discuss the potential implications of these additional sites, to share the information they have to date, inform residents how they can help the community avoid the threat of over-development, and discuss what is needed to take the Neighbourhood Plan forward.
The spokesperson added "If you have an interest in the future of our village - and particularly if you have experience of the planning process - then please attend the public meeting at Alderley Edge School for Girls, on Thursday 16th November, at 7.30pm, or contact the steering group.
"We would appreciate it if you could register your interest in attending, by emailing the Neighbourhood Plan group in advance at AlderleyNP@gmail.com."