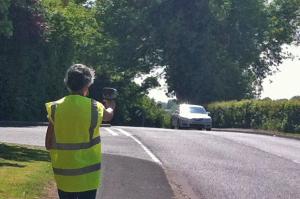 Councillor Craig Browne joined our PCSO and volunteers from the local community on Thursday, 21st September, to carry out a speedwatch session on Ryleys Lane.
Over the course of one hour, from 10am to 11am, they recorded 33 vehicles exceeding 35mph on the 30mph limit and 9 vehicles were travelling at over 40mph.
The highest speed recorded was 42mph and one driving was driving whilst using a mobile phone.
Councillor Craig Browne said "Our next session will be on Thursday 5th October, where the focus will be Heyes Lane. If you are able to spare an hour a month to help out."
Tags: