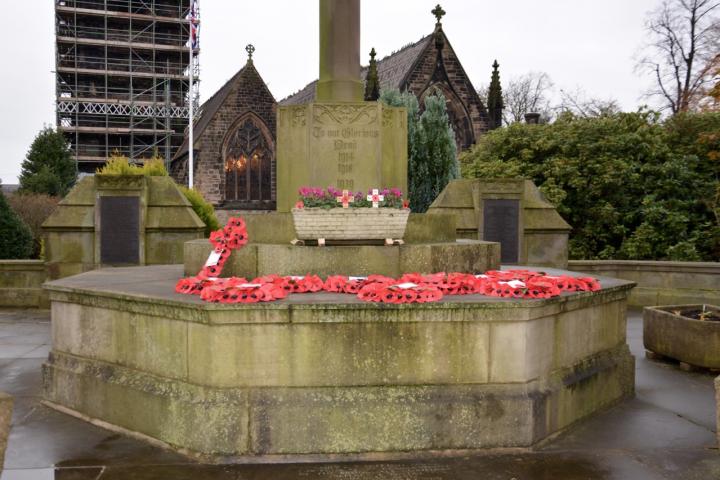 Each month Michael Scaife is producing articles for the St Philip and St James Church news sheet to remember those local residents who died in that month 100 years ago.
There are 71 men recorded on the Alderley Edge War Memorial, along with one member of the British Red Cross and a further 6 are remembered in the annual Remembrance Day service:
The Third Battle of Ypres, better known as Passchendaele, began on 31st July 1917. No men from Alderley Edge died in the first few weeks of the battle, but the village lost two of its sons in September.
The first, Private John Alexander Cragg, was in the Army Service Corps (Mechanical Transport) and died of wounds received when his vehicle was bombed by a German aircraft. Presumably he was driving a lorry behind the trenches in the Pas de Calais, as he was taken to the Queen Alexandra Hospital in Dunkirk, where he was pronounced dead on arrival. His civilian background explains why he was assigned to mechanical transport, as he was employed by Thomas Eadington, who had established a garage business on London Road. He was born in Alderley Edge in 1884 and attended the local school, but after his marriage he lived in Altrincham. His father, George Cragg, was a baker, founder of a business which survived into the late 20th century. He was buried in Dunkirk Town Cemetery.
The second was Private Joseph Steel, who died on 25th September. He enlisted originally in the Manchester Regiment and volunteered for the Machine Gun Corps when it was formed in October 1915. His unit was part of the 33rd Division, which took part in the Battle of the Menin Road Ridge, beginning on 20th September. This was the third phase of the Third Battle of Ypres. Private Steel was one of 3148 British deaths in the five days of the battle. Born in 1887, he was the youngest of the six children of Joseph and Agnes Steel. Joseph senior was a confectioner in Trafford Road, but in the 1911 census his son is listed as a postman living as a boarder in Glossop. In 1915 he married Edith Hollingworth, the daughter of the family he was boarding with. His body was never found and he is remembered on the Tyne Cot Memorial.
Tags: