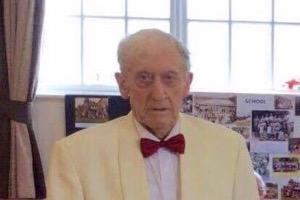 St Barts Band and Over Alderley Band were saddened by the loss of their conductor, Alan Downes on the 19th February 2017.
To celebrate Alan's life and love of music, the two bands are holding a concert at Mottram Village Hall on Saturday, 23rd September, starting at 7.30pm.
Ticket cost £5 each, including a buffet in the interval, and all monies raised at this concert will go to two charities: The British Lung Foundation and Alzheimer's Society.
Alan was born on the 22nd November 1931, and started playing in a band in the early 40's, he was taught to play the euphonium, read and arrange music by his uncle Reg Jenkins. In 1948, he was talent spotted for Brighouse & Rastrick but had to refuse as he was tied into his apprenticeship.
In the 1950's Alan served in the army during the Korean War. At the end of his national service Alan was offered a position as Band Sergeant in the Regimental Band but declined the offer as his father had just died and he needed to be at home for his mother.
Alan was a craftsman both in music and his work as a carpenter and joiner.
In 1975, when his uncle Reg died, Alan, being the deputy, stepped into his uncles shoes as conductor for St Barts. The following year, due to a shortage of trombone players, Alan found a new conductor, Jack Burgess, and Alan joined the trombone section.
In the late 90's, Alan joined Over Alderley Brass Band on bass trombone and then, due to illness of their conductor, Geoff Beard, he took over until September 2016. In 2002, Alan took over as conductor for St Barts, also until September 2016.
Alan spent his last few months in Hillside residential home in Wilmslow with his wife, Nora who he leaves behind as well as his two children.
Anybody wishing to pre-book tickets can leave a message with name, contact number and how many tickets they would like on 01625 582991.
A raffle will be held on the night and the bar will be open for refreshments.
Tags: