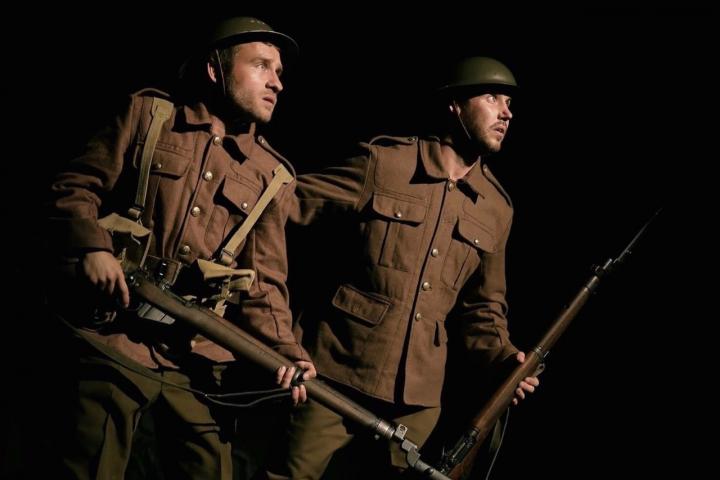 A debut play by Alderley Edge playwright Danny Clifford has been a big success in raising hundreds of pounds for The British Legion.
Heaven to Hell honours the sacrifice made by local heroes at the Battle of the Somme and has recently been nominated for Best drama at the Manchester Fringe awards.
The play made its debut as part of the Greater Manchester Fringe Festival and is dedicated to the 24 officers and 650 men from the 1st Salford Pals who fought at the battle where more than one million men were wounded or killed. In the first 30 minutes alone, 21 officers and 449 men from the Salford Pals had become casualties.
From Heaven to Hell raised nearly £800 through ticket sales and donations and received excellent reviews. Directed by Sue Jenkins, the play gives a fictional account of a group of friends from Salford during the First World War, following the joys and sorrows of their lives against a backdrop of conflict and violence.
Danny Clifford, who is making his writing debut with the play said "I am overwhelmed and moved by the success of the play and also the generous donations we received throughout the fundraising process. It really honours the level of bravery and loyalty shown by the people of Salford during the First World War. Im truly grateful that I could pay tribute to them and bring their story to a new generation.
"From a population of just 250,000, Salford raised four battalions, which was more than many larger cities. It's a contribution that should never be forgotten."
The play not only focused on the horror of the battlefield but also on those who were left at home, waiting for news.
Danny added: "It's been an amazing experience writing, producing and starring in my play, I'm still pinching myself to make sure I wasn't dreaming. I was lucky to have the support of Sue Jenkins who is one of the best directors in the business and also my fantastic cast and stage management. They all did the Salford Pals proud."
Tags: