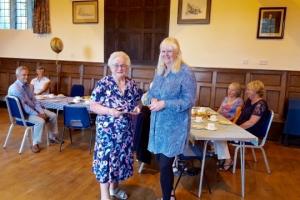 A special tea party was held at Nether Alderley Parish Hall on Wednesday, 12th July, to celebrate 50 years service by a volunteering for the Royal Voluntary Service.
Noni Watkins joined WRVS, as it was then, in June 1967 to deliver meals on wheels accompanied by her two year old daughter whilst her sons were at school and over the years Noni has fulfilled many roles.
From 1983 to 1995 she was the local organiser which entailed approximately three days of work each week. During that time WRVS ran meals on wheels, emergency services, a tea bar at Macclesfield Hospital, a luncheon club, trolley services at flats for older people, a Mums and Tots groups, a Tuesday social club and a library for the housebound.
Currently RVS runs Books on Wheels and a Luncheon Club in Alderley Edge.
Anne Bale, luncheon club manager, said "Noni collects the money from the Luncheon Club members nowadays but in the past she was a team leader cook. Noni has not restricted herself to RVS but has volunteered for many different local organisations usually for many years and in positions of responsibility. For example she has been very active at St Mary's Church, been a school governor and taken part in amateur operatics."
Several special guests joined Luncheon Club volunteers to celebrate Noni's Golden Anniversary. Jenny Shufflebottom and Christine Walker represented Nether Alderley Parish Council, Geoff Hall represented Alderley Edge Parish Council and Sharon Sinclair represented RVS. Noni was presented with a '50 years badge' by Sharon and also received a card and flowers from the Luncheon Club volunteers.
The event was rounded off with tea, sandwiches and cakes made by Luncheon Club volunteers.
The Luncheon Club is held every Tuesday and Thursday during school terms at Alderley Edge Methodist Church. At present there is no waiting list. A two course lunch costs £3.00 and it is a wonderful opportunity for older people to socialise on a regular basis. Any person of retirement age living in the local area is welcome. Parking is available at the Methodist Church along with access for the less mobile. Phone Anne Bale on 01625 582514 for further details. New volunteers are also very welcome.
Photo: Sharon Sinclair presenting Noni Watkins with her 50 years of service badge.