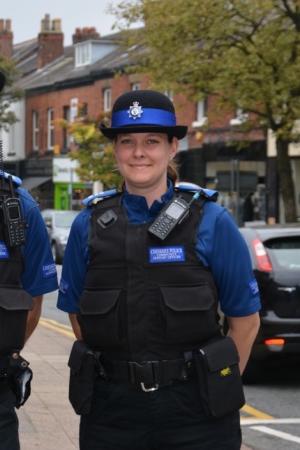 Alderley Edge will have a new PCSO from next week as Sarah Stanley is moving on to a new role within the police.
Sarah took over the Alderley Edge beat from Jim Newns in September 2014 having spent seven years working in Lacey Green and Styal. She leaves on Sunday, 16th April.
Sarah said "I have worked for Cheshire Police as a PCSO in Wilmslow, for the last ten years. Over the last two and a half years I have covered Alderley Edge and have thoroughly enjoyed my time being part of the community.
"I would like to thank all of those who have taken an active part in helping me make Alderley Edge a nice safe place to live and work and I hope that this continues well after my departure.
"I shall be moving on after the Easter holidays to become an Area Intelligence Officer for Cheshire Police."
She will be replaced with PCSO Chris Hopkins who will be responsible for Wilmslow Town Centre and Alderley Edge.
Chris commented "I will be taking on Alderley Edge as Sarah moves on to new pastures. I look forward to continuing the progress made by Sarah, and working with the residents and businesses. I have previously covered Wilmslow town centre. I look forward to meeting people in due course."
Tags: