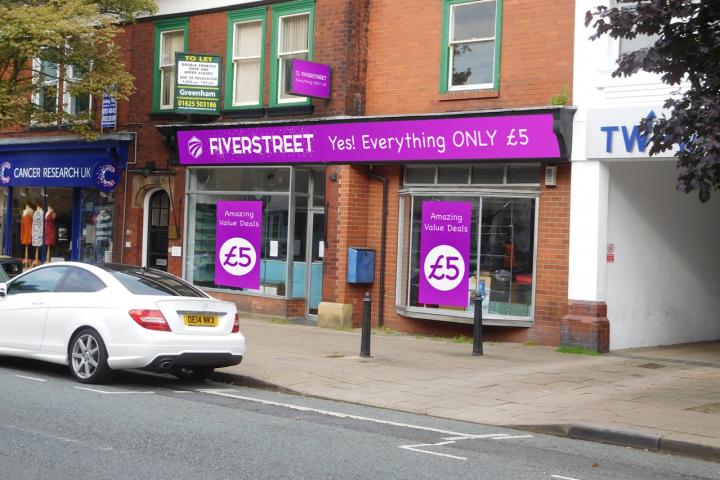 A prominent retail unit which has been empty for several months has been taken over by a national chain.
We can exclusively reveal that 67 London Road, which had been occupied by Cedrics Pharmacy for many years until their relocation to the new Medical Centre, has been leased to Poundstreet.
Business for the value retailer has boomed in recent years, resulting in their intention to expand with the opening of 20 new stores this year under a new brand.
The company has selected 20 of the most sought-after places to live in the UK to launch their new Fiverstreet stores - where, as the name suggests, everything will be priced £5 rather than the usual £1.
Avril Fous-Blague, spokeswoman for Poundstreet, said "Our aim is to have 1000 stores across the UK, in the past four years we have opened 237 new stores and the launch of 20 Fiverstreet stores is an exciting development for the company."
She added "This unit is in an excellent prime retail position within the affluent village of Alderley Edge which meant it provided us with the perfect opportunity to launch our flagship Fiverstreet store.
"With so much wealth in this area we are confident that residents will easily be able afford our more premium products which will still provide incredible value for money."
Cllr Craig Browne commented "This is fantastic news for Alderley Edge and is sure to prove a popular addition. I'm delighted that a retailer has decided to open in the centre of the village as we need more shops to maintain the vitality and viability of the shopping area.
"Many residents have expressed concern about another empty retail unit on London Road. At the same time, many of the remaining business owners have complained about a loss of trade due to reduced footfall.
"I am convinced that what the area needs is a mass-market retailer in order to encourage customers back into the village and I believe that today's announcement is good news for Alderley Edge. I am delighted to welcome Fiverstreet to our village and I am sure they will be very successful in their new home on London Road."
It has been confirmed that Fiverstreet intend to provide parking at the rear of the shop and lay artificial grass on the pavement in front of No. 67 in order to promote their house and garden range of products.
Craig Browne added "Clearly this will need planning permission, but I am keen to support the increase in green space that this will bring in the centre of the village."
Poundstreet will pay £40,000 per annum in rent for 67 London Road but the 20 new Fiverstreet stores will benefit from business rate relief, as charity shops do, enabling them to pay landlords the higher rents demanded in the more salubrious areas.
Refurbishment work started this week to enable the shop it to open on Saturday 8th April, this will be followed by a second store on Grove Street in Wilmslow, which is scheduled to open towards the end of the month.
To celebrate their opening Fiverstreet will be holding a grand sale for the first week where everything will be reduced to £4.
UPDATE (12:00): Thanks for reading my April Fool, I might not have managed to fool many people but hopefully it brought a smile to your face.
For some more April Fools fun check out our previous articles by clicking on the April Fools tag at the end of the article.
Tags: