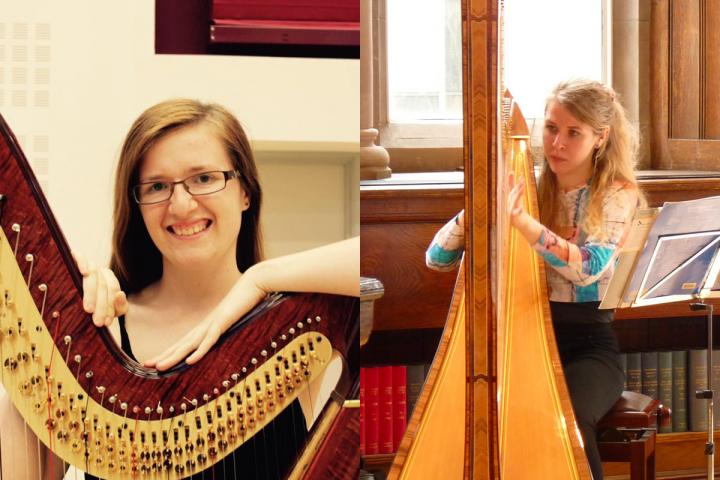 The February lunchtime concert at Alderley Edge Methodist Church will take place on Wednesday, 15th February, and will feature the Septentrion Harp Duo.
Kathryn Mason is in her third year at the Royal Northern College of Music, studying harp with Eira Lynn Jones. As an orchestral player, she has worked with many RNCM ensembles, such as the RNCM Symphony and Concert Orchestras, and her work in the New Music North West Festival 2016 and the RNCM Brand New Orchestra has included a number of world premieres of contemporary works.
She is also a member of a number of chamber groups, including the RNCM Harp Ensemble, the Septentrion Duo and the Marisca Trio, and has worked with several local amateur orchestras.
Originally from Wakefield, Kathryn studied at Yorkshire Young Musicians with Rachel Jerome from 2006 to 2014. As a soloist, she has performed in a number of concerts presented by the RNCM harp department and performed at a number of prestigious venues, such as the Royal Albert Hall, the Palace Theatre in Manchester and Wakefield Cathedral, where she recently had the privilege of performing Handel's Harp Concerto in Bb with the string orchestra of Wakefield Girls' High School, from which she graduated in 2014.
Alice Roberts is 19 years old and is a student on the prestigious 'Joint Course' studying both at the RNCM and Manchester University. Prior to joining the senior college she held a music scholarship at Manchester High School for Girls and was a student at Junior RNCM. She has won numerous prizes including the Warburton Music Competition which allowed her the opportunity to perform as a soloist at the Bridgewater Hall and in 2015 she was awarded a Graucob study award.
Alice has a strong interest in contemporary music and in 2016 she premiered several new works for harp, including a composition for harp and chamber orchestra as part of 'New Music North West' and a collaborative venture involving music and dance. In June 2016 Alice became a prize winner at the University of Manchester, being awarded the Procter-Gregg Prize, an award given to the first year student who has achieved the highest overall mark in performance.
The concert commences at 1pm. Admission is by programme, £5.00, available at the door and light lunches (charged separately) will be served from 12 noon.
Proceeds from the concert will be donated to the charity Visyon (visyon.org.uk), based in Congleton, which supports the emotional health of children, young people and their families.
Further information is available from aemcchurchoffice@gmail.com or 01625 586713.