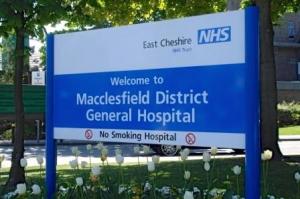 Following reports in some media, the Caring Together Programme Board has today confirmed that there are no plans to downgrade Macclesfield A&E to a minor injury and illness unit.
The unplanned release of the Cheshire and Merseyside Sustainability and Transformation Plan contained an inaccurate reference to a proposal to downgrade the accident and emergency unit at Macclesfield Hospital to a minor injuries and illness unit (MIIU).
However, the Caring Together Programme Board says there are no plans to do this, and urgent and emergency care at the unit will continue to be provided by hospital doctors and other care professional staff as appropriate.
Dr Neil Goodwin, independent Chair of the Eastern Cheshire Caring Together Programme Board said "The Caring Together programme has, with NHS and local authority partners, been exploring ways of ensuring the future sustainability of local health and social care services in light of the huge challenges facing these services locally and nationally.
"It has been well documented that the NHS in particular is under huge pressure nationally and health services in Eastern Cheshire are no different. There is however an increasing acceptance nationally that services are failing to keep pace with the changing needs of the population and so doing more of the same is not the answer. Instead we need to focus more on prevention, self-care, providing people with more help and support in the community and better coordinating people's treatment and care when they become unwell. To do this services have to change. The Caring Together Programme Board is looking at how best to create more integrated services across hospital, primary, community and social care, which will be better for patients and be more efficient.
"I regret the inaccuracy about Macclesfield Hospital's accident and emergency unit. This should not have occurred and has created unnecessary anxiety for patients and staff."
The Caring Together Programme Board is currently overseeing the development of possible options for care services in Eastern Cheshire, including urgent and emergency care. This work builds on existing relationships with neighbouring providers including University Hospital of South Manchester NHS Foundation Trust, Mid Cheshire Hospitals NHS Foundation Trust and Stockport NHS Foundation Trust. Local care professionals, with the involvement of members of the public, are developing a number of options, including the retention of an A&E unit or the development of an urgent care centre on the Macclesfield Hospital site.
Neil went on to say "The Caring Together programme and its partners are committed to ensuring that patients receive the best possible treatment and care within the resources available. Local people may not be aware that individuals sustaining severe trauma, major head injuries, a stroke or a heart attack have for some time now been transferred to neighbouring specialist centres to optimise the best possible clinical outcome and recovery."
He added, "Local communities should be assured that any proposals for major service change will be subject to local scrutiny, public engagement and consultation."