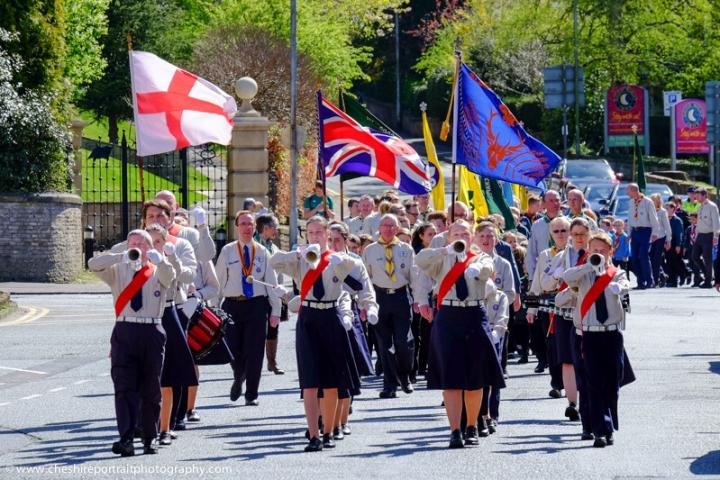 Despite cuts to the police budget, Alderley Edge will mark St George's Day this weekend with a parade through the village centre.
Cheshire police are no longer able to provide officers to manage the traffic but the Scouts have been trained to marshall the event themselves so the traditional parade can take place on Sunday, 24th April.
Beavers, Cubs, Scouts and Explorers from the Alderley District will set off from Chorley Hall Lane Playing Fields at about 2.30pm and march along to London Road. They will then proceed through the centre of the village before turning right down Ryleys Lane to St Philips and St James' Church for the service.
The parade will be led, as usual, by the Alderley District Scout Band.
Stephen P Buckley, District Commissioner, said "This year will be first year the Scouts have marshalled the parade themselves. Thanks to Cheshire East Council's Highway Department who arranged the training for our lead marshals. If people are driving in the village we would ask them to drive slowly and be patient - we will try to keep disruption to a minimum - ideally take ten minutes out and enjoy the parade!"
He added "This year is the Centenary of Cub Scouts and after the service we will be having a brief celebration in the park. The Cub Scout programme is based on the Jungle Book and it is traditional to finish cub pack meetings with the Grand Howl ceremony. So, we will be doing that on a big scale - all three or four hundred of us will be having a "Grand Grand Howl" - should be fun, a bit chaotic and noisy!"
Organisers would welcome volunteers to help marshal the parade, if you are able to assist then please go to the Chorley Hall Lane Playing Fields at 2pm.
Tags: