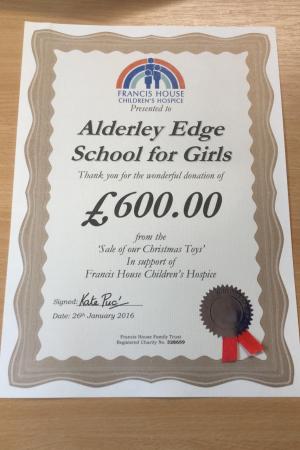 Promotional Feature
As part of their ongoing fund raising for charity, the Junior School pupils at Alderley Edge School for Girls raised a total of £600 for Francis House Children's Hospice through the sale of Christmas beanie toys. The girls all loved choosing their favourite beanie toy and stock sold out very fast.
The money will go towards helping the hospice to provide care and support for the children and families who so desperately need it. The Fundraising Officer at Francis House Kate Puc was delighted to receive the cheque saying "We are extremely grateful to all the staff and children and generous parents who helped in raising this amount."
There is no charge laid down for the hospice care provided at Francis House and with only a little help from the Government, they are very grateful for any support they receive. The Christmas Toy Campaign 2015 raised £7,787.92 and the grand 'Beanie' total across the years is now in excess of £214,306.00!
The official certificate is proudly on display in the Junior School Reception. AESG look forward to supporting the hospice again with the Easter Chick appeal where hand knitted chicks filled with a Cadbury's Crème Egg will be on sale.