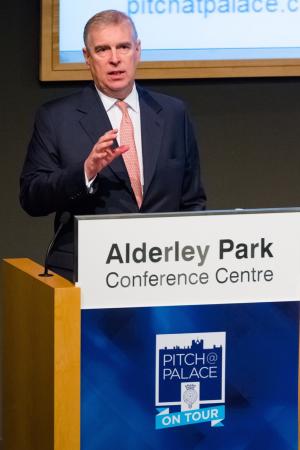 The Duke of York visited Alderley Park today (Tuesday 2nd February) as part of Pitch@Palace 5.0. which was founded by HRH in 2014 to help entrepreneurs turn their ideas into successful businesses by providing access to mentors and potential business partners.
Pitch@Palace 5.0 has a focus on biotech and healthcare and life sciences in particular. Twelve biotech entrepreneurs from across the North West pitched to a team of judges as part of today's event.
Speaking at the event, Prince Andrew said: "Innovation and entrepreneurship is a cornerstone of our economy. Pitch@Palace provides a platform to accelerate and amplify the work of our entrepreneurs in the UK. To date, it has helped more than 100 companies.
"Biotech is an increasingly important area as we address global healthcare issues. It is also one in which the UK can become a global leader. I look forward to seeing these fledgling businesses develop and succeed in impacting on the lives of people across the globe."
Shaun Grady, Vice President, Business Development at AstraZeneca said: "We are delighted to be involved with the Pitch@Palace initiative and to be supporting the next generation of UK biotechs. It's fitting that today's event is taking place at Alderley Park, a site which is home to over a thousand AstraZeneca staff and which has contributed enormously to human health through the products invented and developed by the scientists here."
The following winners were selected to progress to a Boot Camp to be held in Cambridge on 22nd February, where they will be joined by winners from two other regional heats.
Promedstem at the University of Liverpool, developing stem cell products aimed at improving healing following knee surgery.
Exyo Design, creating novel, potentially life-enhancing medical devices such as posture walkers for people with balance impairments.
Memrica, creators of a digital 'back-up memory' designed to help people live well with conditions such as early dementia.
AstraZeneca set up The BioHub at Alderley Park in May 2013, having announced their intention two months earlier to relocate its R&D activity from Alderley Park, resulting in the transfer of 1600 R&D jobs to Cambridge and reducing the scale of their operation at Alderley Park to around 700 jobs from 2,900. The BioHub is now home to over 130 start-up companies.
Tags: