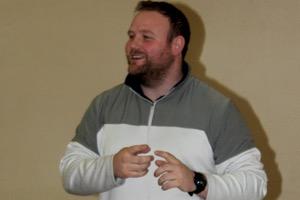 Promotional Feature
The Ryleys School, Alderley Edge has appointed a new Head of Boys' Games, Mr Nick James. Mr James joins The Ryleys from leading North West independent school, Rossall School on the Flyde Coast, where he taught P.E. and was the head of the middle school during his time there.
Mr James brings a wealth of experience and enthusiasm to the role. Speaking of his appointment, Mr James said: "I was attracted to the role as I was aware of the The Ryleys fantastic reputation and was keen to be involved in a friendly and ambitious school that does its best for its pupils."
Mr James will teach Games and P.E. to children aged 3 to 11 and will also coach year 3 and above in football, rugby, hockey, swimming, athletics and cricket. He adds: "My aspirations are to build on the school's success on the sporting front and try and help each and every child fulfil their potential in all areas of sport."
A huge fan of rugby and cricket, Mr James has played cricket for Cheshire minor counties as well as playing regional rugby for Shropshire and the Midlands. He also spent time on the Worcester Worriers elite players programme at U18.
Headteacher, Mrs Claire Hamilton, said: "Mr James is extremely well-qualified to take boys' sport to the next level. We already have an excellent reputation in this area and I look forward to working with Mr James to drive this forward and see him pass on his enthusiasm to all of the children."
Tags: