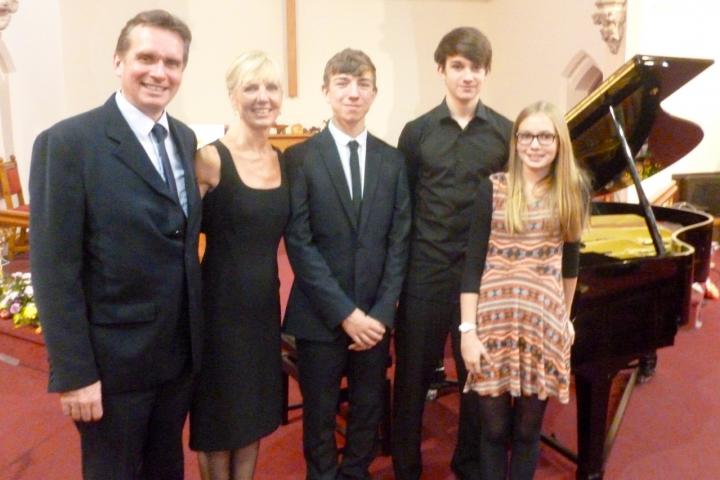 Alderley Edge Methodist Church hosted a special concert on Sunday, 4th October, as part of their Harvest Festival celebrations.
Leading concert pianist Murray McLachlan along with his wife Kathryn Page and three of his children, all of whom are students at Chethams, performed for an audience of about 80 people.
Murray McLachlan is Chair of the European Piano Teachers' Association and Head of Keyboard at Chetham's School of Music, as well as a senior Tutor at the Royal Northern College of Music. Additionally, he is the founder and Artistic Director of the Chethams international summer school and festival for pianists.
Rose McLachlan, 13, opened the programme with three items by Chopin then her brother Matthew, 15, played pieces by Scriabin and Bartok.
Murray McLachlan, who introduced each member of the family, was then joined by his wife Kathryn and they played Ravel's Mother Goose Suite as a piano duet.
Callum, 16, brought the first half of the concert to a rousing conclusion with Liszt's Waldesrauschen and Prokofiev's Toccata.
Following the interval, during which tea and cake were served, Murray McLachlan performed Debussy's 12 etudes, music which he apparently learned as a young adult on the very same piano, which belongs to Murray McLachlan.
Jean Walker said "The McLachlan family have been immensely generous in giving their services to cover the cost of having the piano serviced, and for on-going maintenance in the future. The piano is housed in the church for the use of AEMC, and the Alderley Edge Festival. It is also a vital instrument for groups hiring the church for musical events, Alderley Edge Symphony Orchestra in particular."
Photo: The McLachlan family.