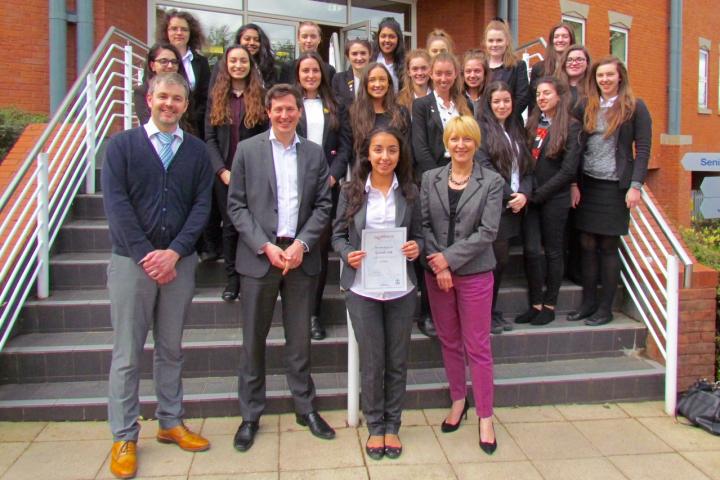 Upper Sixth student, Gulsah Isik, from Alderley Edge School for Girls, has proved the stock market isn't just for city traders as she was crowned the winner of this years' Equilibrium Fantasy Investment League.
Gulsah made an impressive 12.66% profit on the £300 investment fund she was given at the start of the Fantasy Investment League six months ago, beating off tough competition from more than 30 other students and teachers. Gulsah was closely followed by Lower Sixth runner-up, Izzy Summerfield who made just seven pence less than Gulsah.
The aim of the league, was to educate Economics and Business Studies students at the school on how the stock market works and how global events can have an impact on the UK economy.
Gulsah has won an iPad as well as securing a £250 donation for the school. Equilibrium also donated £859.91, the total profit the girls made during the competition, to Gulsah's House charity, Help For Heroes.
Advisors from Equilibrium spent time at the school, sharing the golden rules of investments, how shares and funds work and how to manage risk. The pupils were each given a pot of £300 and selected a portfolio of funds to invest in. The girls then managed these assets over a five month period, with regular updates from Equilibrium on how their investments were performing.
Mike Deverell, Investment Manager at Equilibrium Asset Management, said: "This was a really interesting project and it was fascinating to see how the girls did. They all made some great returns ranging from 5.5 per cent all the way up to over 12.5 per cent so even the lowest was better than leaving it as cash!
"Stock markets generally have done well in the past few months and Gulsah helped her returns by trading between different markets, selling out of the UK, US and Europe and topping up emerging markets and Japan which were the two best performing stock markets."
Susan Goff, Headmistress of Alderley Edge School for Girls, said: "We are always keen to participate in initiatives which enable the girls to experience industry outside the classroom. The Economics department ran a Twitter feed, helping the girls to stay up to date with relevant news. They all engaged in the process, discussing the project with their teachers and getting feedback from Equilibrium.
"The opportunity to work alongside Equilibrium has allowed those girls planning to study a related degree discipline, or with a keen interest in a career in financial services, to have contact with experts in the field and I think the fact that they were up against the teachers made it an even more interesting competition."
Photo: Some of the girls and teachers that took part in the fantasy investment league, including winner, Gulsah Isik (centre front) alongside Mike Deverell, Investment Manager at Equilibrium Asset Management (front left) and Debbie Jukes, Partner at Equilibrium Asset Management (front right).