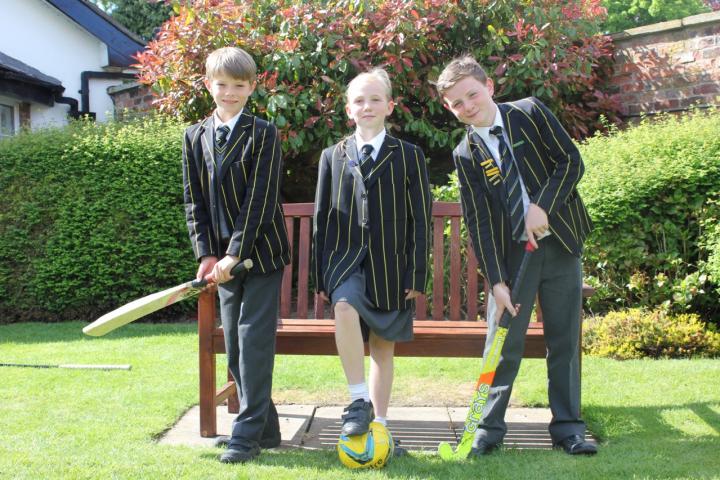 Three Ryleys pupils are at the top of their game when it comes to sporting achievements: gaining places in the Cheshire County Cricket Squad, winning the West Lancashire Girls Football League and being selected for a County Hockey Squad.
Archie Vaughan has been selected to represent the Cheshire Youth Cricket Development Side at Under 11 and can look forward to a number of fixtures and festivals over the summer against county teams from Warwickshire, Staffordshire and Lancashire.
Head of Sport and Physical Education, Paul Jakubowski said "The school is hugely proud of Archie and his achievements, especially as he will be competing against boys who are two years his senior. We are very much looking forward to seeing him develop over the season."
Year 5 pupil, Megan Landing, who plays for Manchester City Girls Football team has taken the West Lancashire Girls League by storm, playing and winning 22 matches to win the League Cup. Megan and the team won the cup final 6 - 0 against Blackpool Girls FC and also played in the semi-final of the County Cup.
Megan is the youngest member of the U11 squad at just aged 9. Trials were held in July last year which 75 girls took part in and 14 were selected.
Year 6 pupil Ben Jones has been selected to play hockey for Tensworth Under 13s Team. Tensworth is a touring team who select their squad of players from across the whole of the North West of England who have already represented their county. The Tensworth Under 13s will play in the UK Championship in Nottingham in June.
Head Teacher, Mrs Claire Hamilton, said "We have an excellent track record of sporting achievement here at The Ryleys and we are delighted that three of our pupils have done so well at county level. Their achievements are a true testament to the children's passion for their chosen sport and the outstanding level of coaching they received."
Photo: (l-r) Archie Vaughan, Megan Landing and Ben Jones
Tags: