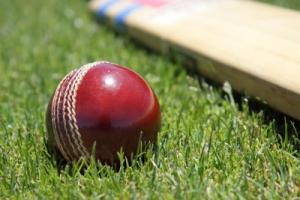 Scheduled for a double-header against local rivals Bramhall over the weekend – a team who defeated Alderley Edge 3 times out of 3 last season – Saturday's league match fell to a waterlogged ground after heavy rain the night before. This left the National Knock-out match at Alderley on Sunday, and despite fielding a weakened team, it was Bramhall who again came out on top.
Alderley's bowlers started well, and after 27 of their allocated 45 overs Bramhall's total had reached only 79-4. However, their star batsman Daniel Lamb, who until then had played very patiently, cut loose and made an excellent 84, allowing the visitors to reach a total of 201-9, with Chris Cook and Dan Fesmer each taking 3 wickets. This was always going to be a challenging score on a difficult batting pitch, and Alderley's run chase never got going after the loss of early wickets. Only Richard Wilkinson passed 30 as Alderley were dismissed for a paltry 99.
Fortunately the 2nd and 3rd XIs both had much more positive results. The 2nd XI defeated Bramhall by 5 wickets, with the mercurial Ollie Hall having one of his days when it was simply impossible to bowl at him. He smashed 81 from 56 balls opening the innings and made Bramhall's total of 170-7 look distinctly inadequate. However, four wickets then fell for 9 runs and it was left to the experienced shoulders of captain Jon Usher to see Alderley home with an aggressive 46 not out.
The 3rd XI entertained Knutsford at Chelford's attractive ground, and batting first rattled up 203-4 declared, Oliver Pooler (85 not out) and Angus Muir (71) putting on a key partnership. This proved far too many for the visitors, and with Katie Haszeldine. Laurence Tissington and Nathan Pugh dividing the wickets between them, Knutsford were bowled out for 55.
Match report by Rick Davis.