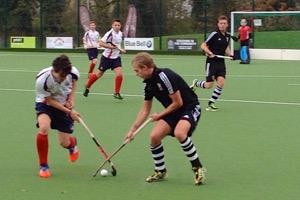 Alderley Edge travelled to Leeds in the North Premier league, having put in arguably their best performance in the first meeting of the sides.
It was Alderley that started the better and put pressure on the Leeds defence getting into the D, but not creating a clear chance until Parr broke through would be tackles and Joe Coxon latched on to the loose ball and his well struck effort was well saved. In Leeds first possession in the D a ball to the back post was partially cut out but was forced over the line for the opening goal.
Leeds then won a couple of penalty corners and Whitehead made a remarkable save on the line. Moments later Ben Gregory wriggled free and his rising reverse stick effort was saved by a defender with the keeper beaten.
Alderley continued to press and Wildig and Coxon just failed to get a touch on Sam Gregory's pass. On the stroke of half time a turn over in the middle of the pitch left a Leeds player unmarked in the D. Riley made a block but as the ball trickled towards the line calamity struck as Kay's clearance away from goal hit Parr on the shoulder and ended up in the net.
The second half saw Alderley continue to have the majority of play with Leeds happy to play on the counter attack. Ben Gregory had a clear shooting chance but his well hit strike was too near the keeper. Alderley were also starting to win penalty corners but were struggling with their routines with McCormick missing.
The midfield began to play well with the passing game improving as Bryant was starting to link with Leddy and Mattingly and the game became stretched. Alderley then scored when a deflection from a penalty corner led to Sam Gregory sweeping in the rebound. Alderley equalised when an almost identical situation following another penalty corner lead to Coxon being on hand to score.
Leeds fought back but Cresey and Badger were defending well meaning Leeds had no shots on target. The Alderley forwards were still highly effective out wide but not quite clinical enough in front of goal. As the game drew to a finish Leeds has two men sin binned and Alderley one. Parr's determination nearly won it for Alderley but last ditch defending denied him. Then Leeds had two late penalty corners well saved and one last chance that Riley intercepted.
A draw was the least Alderley deserved but probably a fair result.
The twos hosted Champions Didsbury Northern, with a changed team they put in another sterling performance but went down 4-1.
The third team kept their survival hopes alive with a 3-1 win over Sale 1s, Hall, Parker and Walker with the goals.
The 4s saw their promotion hopes stretched as they lost to league winners Deeside 2-1, they can mathematically go up but need results between the other top sides to go their way and they win the remaining three games which are all at home. Several players put on sterling performances with Alex Jones given high praise for his display.
With only 10 men the 5s put in a great performance facing top of the league Chester, good keeping from Martin Webb and great effort from the others kept Chester at bay unfortunately fatigue took effect and along with two penalty strokes meant they went down 5-0. They look like missing out on promotion on head to head record.
The 6s ran out fairly comfortable 5-3 winners over Macclesfield an moved into mid table.
The 7s drew with third placed Triton, so have a three point lead and a better head to head record with two games to go in the battle for the second promotion spot, and face bottom placed Timperley on Saturday whilst Triton face league leaders Keele Uni.
The juniors success continued as the Boys u12s claimed the Cheshire title winning their pool with three wins and a draw before winning the play off 1-0 against Bowdon. They now go on to the North finals.
The newly formed u10s were unfortunate to get knocked out in the semi-final.
Match report by James Riley.
Tags: