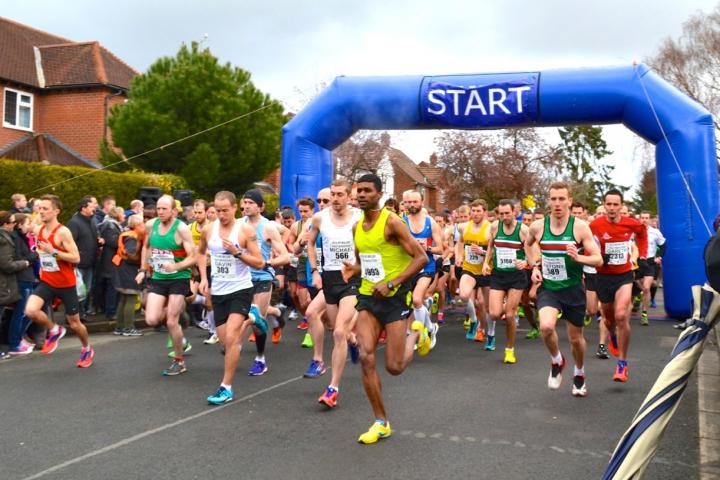 The Wilmslow Half Marathon is fast approaching, bringing thousands of athletes and supporters into the town to enjoy this popular event and soak up the great atmosphere.
Sponsored by Waters Corporation, the 31st Wilmslow Half Marathon will take place on Sunday 22nd March - setting off from Wilmslow Rugby Club at 10.30am.
While elite runners compete for championship honours and cash prizes, others pounds the streets to support their chosen charities, many with personal reasons for doing so. The race itself raises in excess of £250,000 each year for charities and this year the chosen lead charity for the race is the Stroke Association.
In recent years, past winners Andy Jones, Thomas Abyu and three times lady champion Michelle-Ross Cope have used the event as a spring board to European, World or Commonwealth games championships.
The first male and female to finish will receive £1,250 each, with a £500 bonus payable if anyone beats the men's course record of 61.52, set in 2004 by Isaac Macharia of Kenya, or the ladies course record of 72.02 set by Michelle Ross-Cope in 2010.
Nick Bishop said "Rarely do we have on our door step an event that unites 5,000 athletes and a support crew that swells the population of Wilmslow to closer to 10,000 on race day."
He added "With Wilmslow resembling a mass of humanity come race day, race organisers wish to stress that road closures will effect traffic on race day, if you are running, car share and get to the start very early and where possible travel by train ( 20 minutes walk from the start)."
All roads on the course will be closed to traffic as runners race along the country lanes from Wilmslow to Mobberley and then back again. Surrounding roads in the Kings Road and Altrincham Road area will also affected and the closure starts from 7am. Significant delays are to be expected.
If you're taking part in the Wilmslow Half Marathon, or just going along to watch, and take any good photos please email these to admin@wilmslow.co.uk.