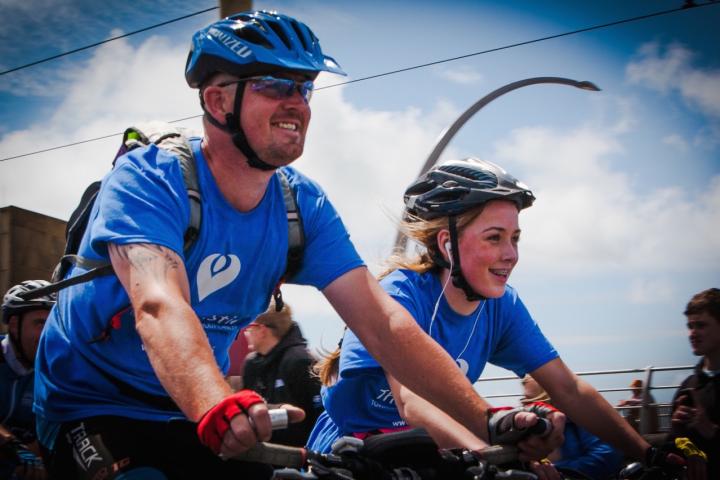 The Christie charity has been confirmed as the Official Charity Partner for the Wilmslow Triathlon on 17th May and the South Manchester Triathlon on 20th September, both of which are based at the Wilmslow Leisure Centre,
The Wilmslow and South Manchester Triathlons are very popular sprint distance triathlons which attract novice, experienced and elite triathletes alike. They start with the 400m swim taking place in the five lane 25m indoor pool, followed by a mainly flat 24.2 km cycle ride which takes competitors around the scenic Cheshire countryside. Finally, the 6.3km run goes around East Wilmslow's leafy roads and is a mostly flat route with some inclines near the River Bollin.
Race Director Simon Hill commented: "We are proud to announce The Christie charity as the Official Charity Partner for the Wilmslow and South Manchester Triathlons, which are both popular events aimed at triathletes of all levels. Many novices choose a sprint distance triathlon as their first race, and raising money for The Christie is the perfect opportunity if you need a bit of extra training motivation and support. We would like to encourage as many athletes as possible to join Team Christie and to support the charity."
Cherry Steele, sporting events officer at The Christie charity said: "The Christie charity is delighted to be the official charity partner for the Wilmslow and South Manchester Triathlons this year. These triathlons will be a fabulous addition to our calendar of events and we're confident our supporters will be keen to sign up and help raise vital funds for our patients."
As one of the largest hospital charities in the UK treating approximately 44,000 patients each year The Christie NHS Foundation Trust in Manchester has been pioneering cancer breakthroughs for the last 100 years. From discovering new treatments, to finding new ways of making patients' lives easier. Thousands of people are now leading fuller, happier, longer lives because of its groundbreaking work.
Triathletes wishing to join Team Christie can register online here for the Wilmslow Triathlon and online here for the South Manchester Triathlon and select the option to support The Christie charity. In return for their support athletes will receive a Christie welcome pack, fundraising and training support, as well as a free Christie t-shirt.
The Christie will also have a dedicated cheering point on race day to provide extra motivation and support. Anyone who already has a place can still raise money for The Christie by contacting the events team on 0161 446 3400 or email events@christies.org.