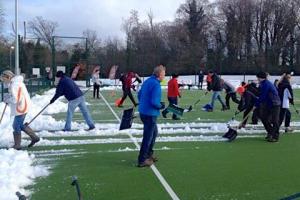 Despite the pitch being covered in snow there was no stopping Aldeley Edge Hockey Club as an army of volunteers got down to the ground on Saturday morning and shovelled and swept the surface clear to ensure a full weekend of fixtures could go ahead.
First up were the ever impressive 7th team playing against Macclesfield. Once again the youngsters shone playing some tidy possession hockey and coming up with some exquisite finishing, the picks being a good 1-2 on the edge of the circle to allow a clean strike on goal and a switch routine from a penalty corner and a flicked finish into the far top corner. The final score was 5-0.
The second team probably wished that the game had been cancelled as they trailed bottom of the league Stockport/Bramhall 1s 4-0 at half time. A combination of poor play and a lack of drive from the hosts had allowed Bramhall a series of corners and they had managed to create 3 routines culminating in deflections in front of goal, plus a good run and finish.
A few choice words were said at half time and Alderley came out a completely different team. In the first couple of minutes neat build up play down the right hand side lead to a ball into the D that was neatly deflected home by Oli Parker. Much quicker to play the ball and a desire to win it back meant that Alderley were constantly on the front foot, from their first penalty corner Chris Hardy smashed the ball in to make it 4-2.
Alderley continued to dominate with Sanders and Joe Gregory winning turn overs in the midfield and Wood was able to attack up the right. Harry Whitehead was having more possession and on the whole Alderley were looking a dangerous attacking outfit. A couple more penalty corners were won but wasted and it seemed that Bramhall may hang on, but then Alderley mustered up further attacking chances, resulting in more corners. Nick Sims who had been a threat throughout stepped up and flicked past the keeper for 4-3.
With only a couple of minutes to go a host of incidents in the D, including Matt Hardy colliding with keeper, resulted in Alderley being awarded a penalty stroke. The umpires then had a chat and this was downgraded to a penalty corner, despite the obvious frustration, Alderley kept their composure and from the set piece Sims stepped up again and this time fired high past the stranded keeper to draw the sides level. Barnes made a vital interception as time ran out as the game of very much two halves finished 4-4.
The first team travelled to Gateshead with a changed squad, U16 players Todd Leddy and Ted Heywood making their debuts, it was further good news for Ted, who has also been named in the England U16 squad for the coming season.
The trip to Gateshead is never an easy one and Alderley struggled for fluidity and the game was a scrappy affair. Alderley took the lead when Sam Gregory was played in and bore down on goal only to be upended. Simon Parr stepped up and calmly dispatched the penalty stroke.
Chances came and went at both ends before Gateshead equalised from a penalty corner. Again Alderley were busy but not incisive, Wildig one of many to have his shot saved late on. Alderley came away from the 1-1 draw disappointed, but have still only lost once in their last eight games.
The 3s travelled to Neston and in a fairly even game came away with a 1-1 draw.
The fifth team were also at Neston and put in a poor performance to lose to a side near the bottom of the table 5-1, fortunately their promotion rivals also slipped up.
The 4s and 6s were cancelled due to the weather.
Match report by James Riley.
Tags: