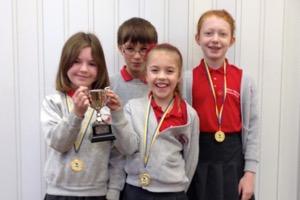 Nether Alderley Primary School were the winners of the Wilmslow Primary Schools Spelling Bee competition on Thursday, 22nd January, hosted by Darren Morgan at Lindow Primary School.
The children, one each from year 3,4,5,6, took on a range of spelling challenges including anagrams, scrabble and individual spelling tests to finish first overall out of the ten local schools which took part.
Headteacher Richard Craven said "The children all had a very enjoyable afternoon and were thrilled to win the competition. Many thanks to Mr Morgan for putting on the event."
Pictured with their medals and trophy are Eva, Connie, Jacob and Ella.